BUTTERFINGER PEANUT BUTTER PIE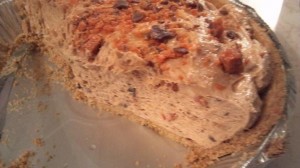 mix 2 cups confectionary sugar with 1 pkg softened Philly cream cheese..
add 1 cup creamy peanut butter
and 1 small tub cool whip..
Mix till blended..
Smash two butterfinger reg size candy bars in their wrapper..open and sprinkle all in the mixture reserving a little fot the top of pie..
mix put in Graham shell using rubber spatula
sprinkle reserved butterfinger and put on lid..put in freezer for hour or two till firm..done..