How to make homemade Tagliatelle Pasta
Tagliatelle – sometimes called Fettuccine are narrow ribbons of pasta. Usually seen straight. but can be twisted like ribbons and dried as well as pictured.
They are eaten with all sorts of sauces- cream, tomato, or meat.
To make tagliatte by hand roll up each strip of pasta like a jelly roll and slice across it at 1/4 inch intervals all the way along the roll..unroll and hang over back of chair or cook immediately.
You can also cut it the way I did, with a pasta machine through the wide cutters.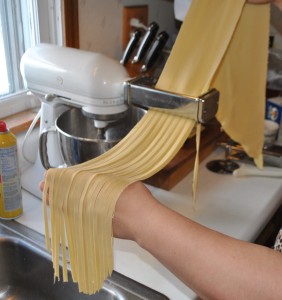 I then took a cookie sheet.. lined with wax paper and lightly floured.. as so they wouldn't stick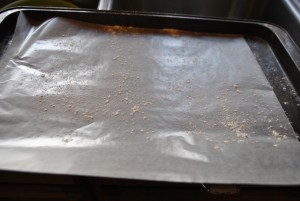 and I layed my ribbon Tagliatelle on the sheets.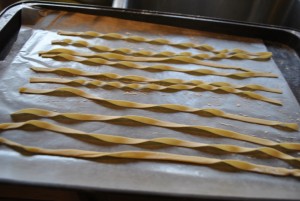 (use scissors to cut ends even with the rest if needed)
When it was full I laid another sheet of wax paper lightly floured and continued as before until all was done. leave alone  to dry on it's own as I was not using the pasta for that day…
Once Dry you keep it in an airtight container.. pasta also freezes well.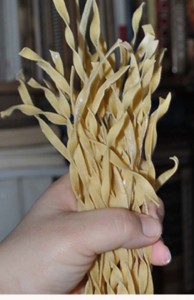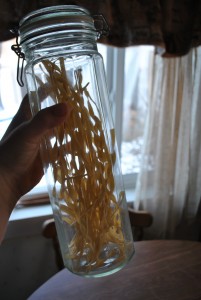 when ready to cook put in salted  boiling water with a tad of oil until al dente. enjoy.