HOMEMADE SLOPPY JOE'S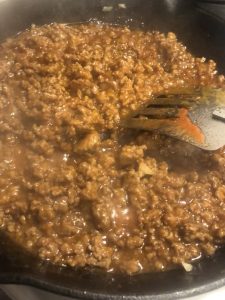 simply brown 2 pounds of ground beef  in a cast iron skillet. My beef was extra lean this time so I browned mine in some butter. add a little black pepper and a tiny bit of minced garlic or a shake of garlic powder
Add in a little chopped and minced onion while you are browning the meat.
once meat is browned and no large chunks remain, you will add in some ketchup, yellow mustard, and some brown sugar and two to three tablespoons of water and mix well in with meat in cast iron skillet.
go by taste, no need to measure..
Make sure it is saucy and not dry.
Serve your hot sloppy joe's over warm Sunny Buns with Sweet Southern Homemade Slaw.
Enjoy!