This was Tried by me and to me it was really good. I am going to call it Shredded Sweet Potato Fries. As you see I fried them in a dab of olive oil abd two pats of butter. I steamed them so they would get done and then I openly finished coiking. I made a lil sauce on the side. Spicy mustard, ketchup, and honey bbq sUce. This was a half of a sweet potato and two really small potatoes. To me it was really good.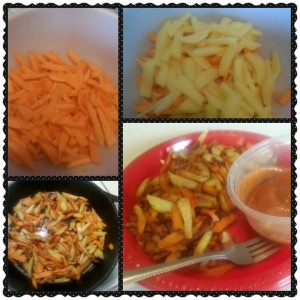 Too me it was good. It was like a swwet taste added to the potatoes. Then I used the spicy sauce for my dip. BTW I didn't use any salt.
I used ketchup, spicy mustard, and honey bbq sauce. It was spicy and just what I had in the fridge at the moment. But I think when you buy sweet potato fries at restaurants they usually give you a bbq sauce. I figure you could make up your own favorite sauce to go with them…But I must say, this went well with it.