Sesame Garlic Chicken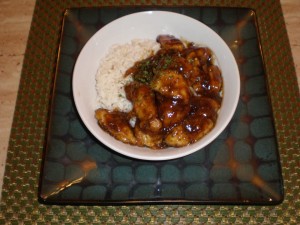 Sesame Garlic Chicken is on! Here are the before pictures. I am setting the slow cooker for 6 hrs on low setting.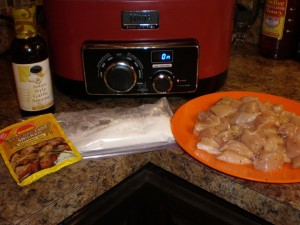 Sesame Chicken
Submitted by: Laurie Lynard
Ingredients:
2 lbs. of chicken breast tenders
1 pks of General Tsao's Chicken seasoning (Chinese food aisle in supermarket) 1 jar of Asian Style Garlic Sesame Sauce (Chinese food aisle in supermarket)
2 cups of flour
1 tsp. of black pepper
½ cup of oil
Directions:
Set Ninja on stove top setting high, and heat oil (If using crockpot, heat pan with oil)
Cut up chicken breast tenders in 2-3 inches pieces and season with black pepper
Put flour and chicken in a plastic freezer bag
Mix together.
Once Ninja or pan is hot, take chicken out of freezer bag and brown chicken in hot oil on both sides
(depending on how much you cook, you may have to take some of the chicken out of the pot and brown the rest of the chicken)
Follow the instructions on the General Tsao's Chicken seasoning package
Once all chicken is brown, pour all ingredients on top of the chicken (Do not add the Asian style garlic sesame sauce until the last ½ – 1hr of cooking because it will thicken up.
Set Ninja on slow cooker for 2-4 hrs. I would suggest preparing this meal if you will be home because it cooks real quickly!
Serve over rice. THEN ENJOY!
NOTE: THIS RECIPE CAN BE COOKED ON THE STOVE TOP IN LESS THAN 35 MINUTES.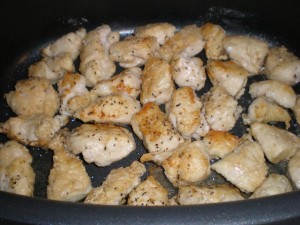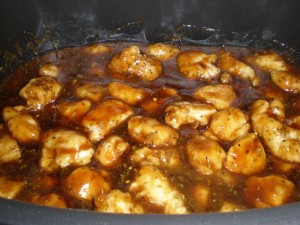 Dinner is done. Sesame Chicken