So I took the suggestion from a group member to use Nutter Butter Cookies instead of Oreo's to make the cream cheese balls.. only after trying it,  I didn't like the taste of it so I added some more ingredients and came out with a great tasting ball with awesome texture.
SERENA'S NUTTER BUTTER BALLS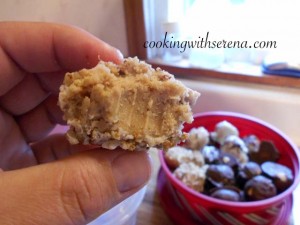 Parafin Wax (optional)
Chocolate Bark and  Milk Chocolate Chips
White Chocolate Bark
1 whole pkg of Nutter Butter Cookies
1 pkg Soft Creamy Philly Cream Cheese
Vanilla (about 2-3 tsp)
1 cup confectionary sugar
1 Tbsp White Corn Syrup
Use a double boiler to melt you chocolates.. ( I did both chocolate and White cause I was also making Peanut Butter Balls at the same time)
Next I crushed my nutter butter cookies very fine.. fastest easiest way is if you have a food processor or mixer or even a ninja will work .. if not just put them in a plastic gallon zip bag, get all air out of bag, zip up and put a towel under and on top and beat the bag with wooden rolling pin
now mix your cream cheese in mixer at med-low speed with our cookies and add your vanilla and corn syrup
now add in the confectionary sugar slowly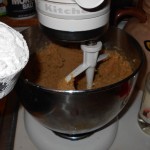 mix well and take out and shape into balls, use your hands in the confectionary sugar so they wont stick as you roll them on your palms like meatballs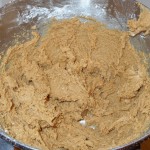 place on waxed paper lined cookie sheet, and then into the freezer to firm up before going into the melted chocolate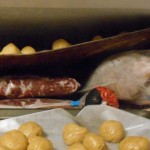 While your waiting for them to firm up in the freezer, take some pecans and put into the food processor just like you did the nutter butter cookies.. you just pulse a few times to get them small enough to coat your balls in later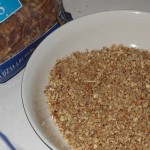 now your ready to start dipping your balls in the chocolate..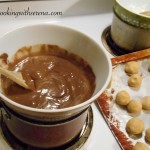 simply dip and quickly take out and put on waxed paper that they came from.. some you can do plain in chocolate and some as soon as they come out dip into the nuts to coat .. I didn't do them all in nuts cause some people do not like nuts..
Like I said I was making BOTH Reese's peanut butter balls and these nutter butter balls at the same time, so in order for me to tell which chocolate ones were the plain nutter butter balls, I simply took alternating color chocolate and made a couple lines over top..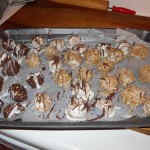 made them pretty and decorative and at the same time I can now tell which is which when I go to separate them to give to my friends.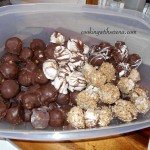 The texture with the nutter butter balls and pecans are really nice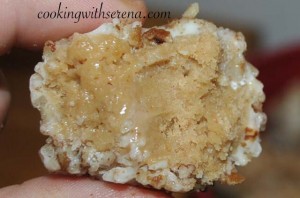 they are done.. ready to enjoy and give out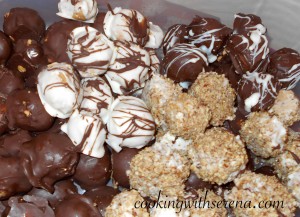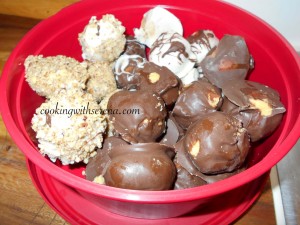 Store in container with tight lid in fridge  until ready to set out to serve.