SERENA'S CHOCOLATE PUFF PUDDING CAKE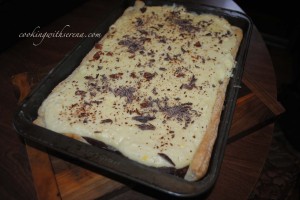 take frozen puff pastry out and open both sheets onto a floured board let thaw while you make chocolate custard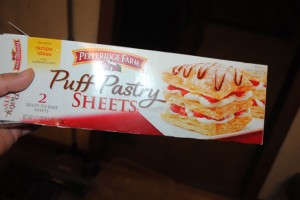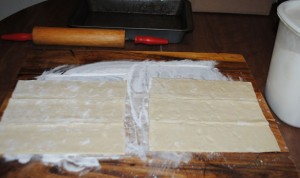 Custard:
In heavy bottomed Dutch Kettle Put
3-4 cups milk with 1 stick of butter.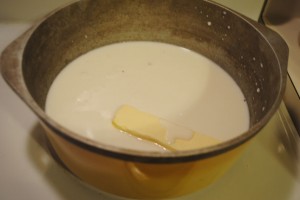 In another bowl put
2 c sugar
2/3 cup cocoa ( mix cocoa well with sugar before adding anything else)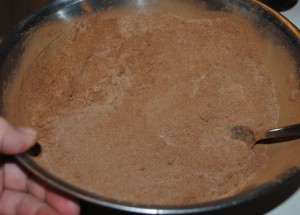 8-10 eggs Separated,  Use only yellow of egg with sugar mixture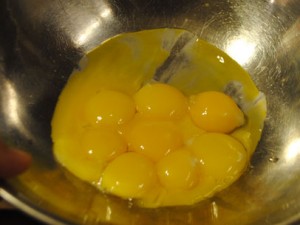 add 3-4 tbsp cornstarch mixed well with water in a cup with fork..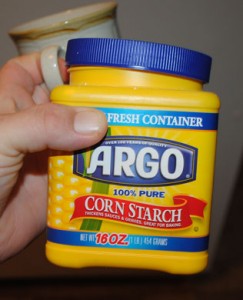 then  add add eggs yolks and 2 tbsp vanilla to sugar mixture.. .. use blender.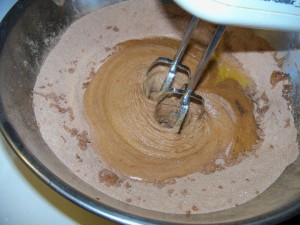 BRING MILK AND BUTTER TO A BOIL….
Pour sugar mix into kettle when milk and butter comes to a boil,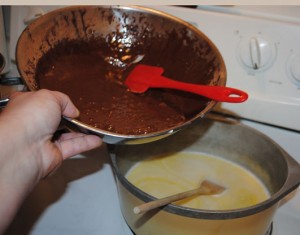 STIRRING CONSTANTLY.. turn down heat… at this point you CAN if you have them throw in a handful of Milk Chocolate chips to make it richer but only if you have them.. not needed …..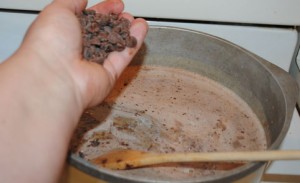 stir until thick  (if not thick enough you may add  a Tbsp or so more cornstarch mixed with tad water  in cup to thicken,  pour slowly as you stir you don't want to make it too thick)
add a dash of salt….
Take off heat once pudding is thick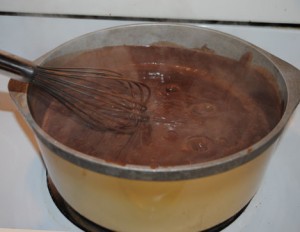 Roll out the first pastry to fit 9×13 …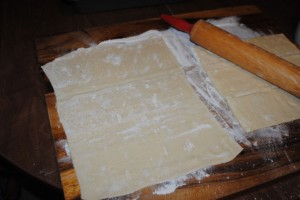 spray your 9×13 pan with bakers joy and put the pastry in the bottom of pan and using fingers shape along sides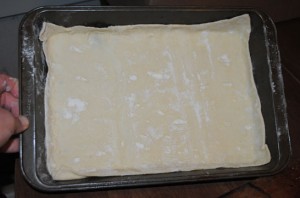 pour in half of the chocolate custard, use rubber spatula to smooth it evenly.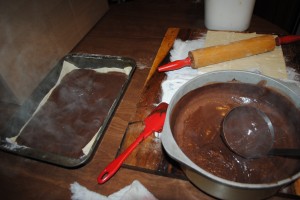 Roll out other pastry and place on top of custard layer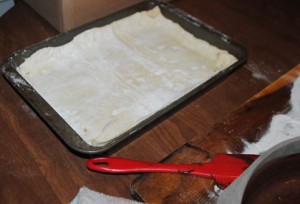 again you fix edges  with hands and put remaining custard in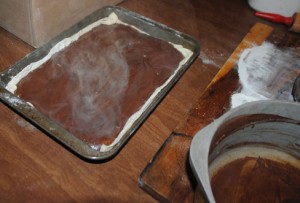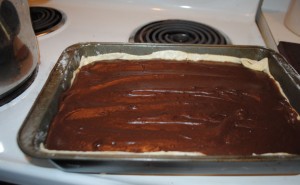 put in 400 degree oven and bake for 17 minutes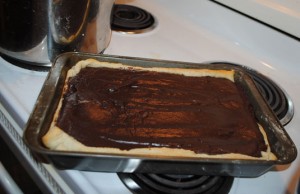 Now it is good just as it is after you chill it but if you want to go a step further take a single package of dream whip, and one single package of cream of coconut instant pudding and mix together with two cups of cold milk.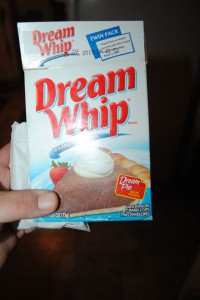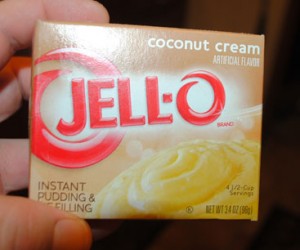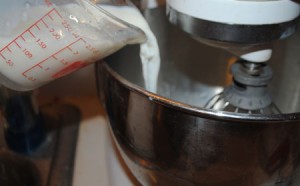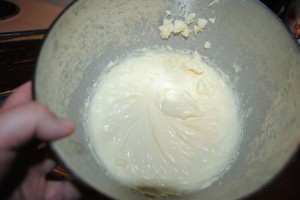 when thick spread over top of chocolate custard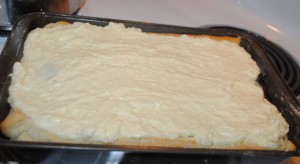 and put into fridge to set  up immediately, set on wood block not directly on glass in fridge as the bottom is hot from custard.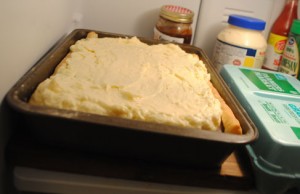 Chill about 2 hours and garnish with chocolate shavings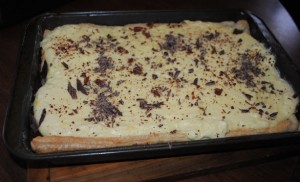 Serve up and enjoy