SERENA'S BULK POT PIE FILLING FOR FREEZING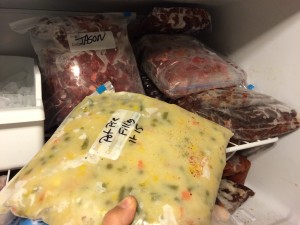 I start out like I am making homemade drop dumplings.. Use about two of the large 49 ounce Swansons Chicken Broth.  Put into tall stock pot.
Add stick of butter or margarine. Pour in one can of evaporated milk.
Mix up your batter in bowl. 2-3 Cups self rising flour, tsp baking powder, Tbsp vegetable oil and mix in a little tap water and stir .. add enough water that it is not too thin but not too thick..
I have a couple quarts of green beans drained , a pint of my frozen sweet corn, 2 cans peas drained, and a bag of frozen mixed veggies carrots lima beans ect.. this all goes into my stock pot.
Okay so in my electric pressure cooker I put in some frozen pieces of skinless boneless chicken.. can use thighs, breast whatever. I add a chicken bullion cube salt, pepper and a couple slices of onion.  Add 1 cup water and pressure cook about 10 minutes or so until the meat is tender and cooked through..
dice the meat up with knife in chunks for pot pie. you will add all this to your stock pot..
bring pot to boil and drop in batter by spoon fulls. Turn down heat all the way to simmer and put tight fitting lid on. Let simmer for 10 minutes without lifting the lid at all.
when done.. put some cornstarch in a cup.. about 2 tbsp or more and add a little water.. stir and pour into the pot pie filling to thicken. taste.. may need pepper.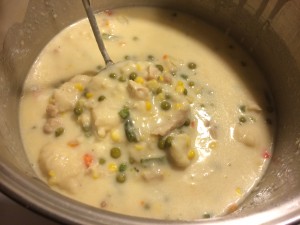 You have enough filling to make dinner today and freeze the rest … I made a 9×13 for my family, a small 9×6 for my mom and dad, and had enough to freeze a gallon bag for a lazy winters day.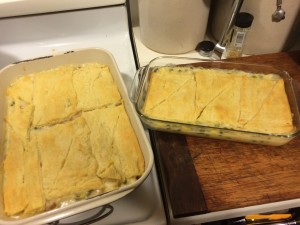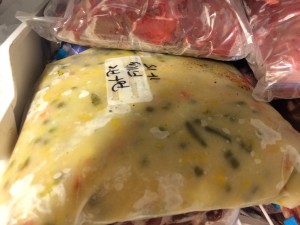 You can make your topping for your pot pie out of pie crust, or like I did today just use crescent rolls.. or you can make a biscuit topping even.. so many ways to have fun with it.. you can even do individual pot pies. Enjoy.. hope you like my recipe.