Pineapple Upside Down Bundt Cake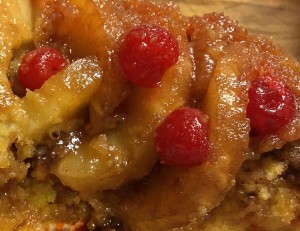 Ingredients
1/2 Cup butter (1 stick), melted
1/2 Cup packed brown sugar
1 Can pineapple rings (save some pineapple juice)
1 Jar maraschino cherries
1 Box yellow or pineapple cake mix
1 small box instant vanilla pudding (or 1/3 cup applesauce)
3 eggs
Vegetable oil (cut oil in half if you want it a little less moist)
3/4 c Milk
1/4 c pineapple juice
tsp vanilla
Middle layer
White sugar
Brown sugar
Cinnamon
Allspice
Instructions
Preheat the oven to 350 degrees F.
Prepare the bundt pan with Bakers Joy Spray
Melt the butter and evenly pour into the bottom of the pan. Sprinkle with the brown sugar.
Cut the pineapple rings in half and alternate with the maraschino cherries around the bundt pan as shown in the picture. Set aside.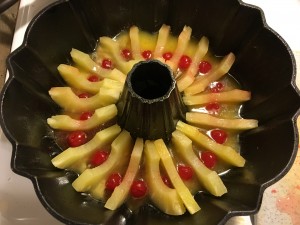 In a stand mixer or large bowl, stir the cake mix and pudding mix together.
Drain the pineapple and reserve
Add 3/4 cup milk and 1/4 c pineapple juice to make 1 Cup of liquid.
Add this with the eggs and the amount of oil called for in the recipe to the cake mixture; following the instructions on the box. And a capful of vanilla.
Carefully pour some of the the batter over the fruit
Then I liked to add a little more brown and white sugar, tad of cinnamon, and a little bit of allspice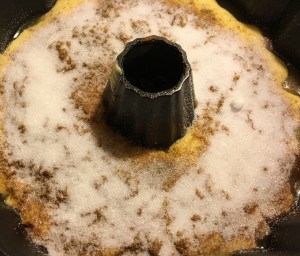 I add a little white sugar lastly for a sweet bottom crust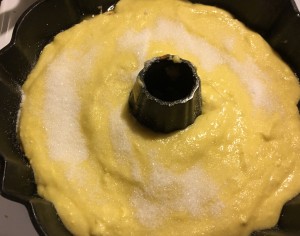 Pour rest of cake batter over
and bake as instructed for a bundt cake. About 40 minutes .. I can "smell" when my cakes are done.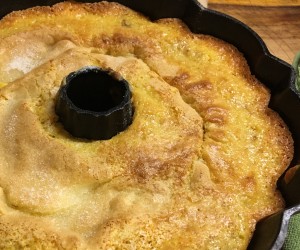 Cool for 10 minutes in the pan. Slide a knife around the edges including the inner ring and drop on counter to loosen cake.. extremely hard sometimes to loosen but always so good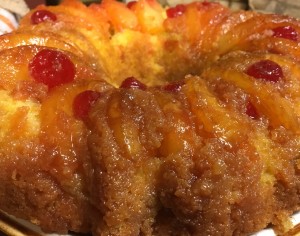 Invert the cake onto a serving plate. Slice between the pineapple rings and serve warm with vanilla ice cream or room temp