Am I the only person that didn't know this? LOL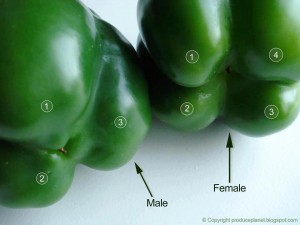 Male over female! Flip the peppers over to check their gender.
Deborah Cook Adkins

And I just found out, the three bulb is sweeter, the four bulb is better for cooking!!!

Judith Parady Rice

Well I declare! Never have I heard this one. I will be making Mexicalli Stuffed Peppers soon. I can't wait to check this out.

Sherry Church Browning

I usually don't buy green peppers, to me they are too bitter. I like the yellow, red or orange much better.

Serena Adkins Ellison

bitter???? Green peppers? They have a unique sweetness I think.. I really miss them if they are not in certain foods.. especially meat loafs and chili's..

Amanda Pegram Clyburn

The three knobbed ones are sweeter. They are NOT male and female, the flower contains BOTH sexes, but the 4 knobbed one has more seeds, so people think it is a female. They are unripe peppers, the red and orange being ripened ones, just like tomatoes.

Serena Adkins Ellison

in all my garden raisin .. and talks with Thelma..my 86 year old neighbor who gardens, I had never even heard about the male female controversy.. LOL.. it is interesting…. I love me some peppers three knobs or more..pahahhaaa

Judith Parady Rice

This is too funny!!How come Noah didn't take THEM thar peppers into the ark???LOL

Judith Parady Rice

Amen! Peppers, onions and garlic.! Iguess they did more leels back then didn't they. I love them too!

Susan McElroy

Oh my! This is hilarious! You all are so entertaining! I did learn something new about the green peppers though. HeHe!!