RECIPE AND PHOTO  SUBMITTED BY Judith Parady Rice
PEA SALAD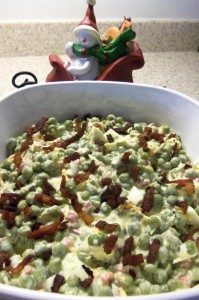 .In separate pot,cook 2 lbs. sweet peas in 2 c. hot water till tender.
I drain them and cover w. water and ice cubes.,to cool .
In large bowl, I put 1/4 c.roasted red pepper,diced fine,
1/4 cup finely chopped red onion.
2 oz. shredded sharp cheddar cheese,
1/3 cup shredded parm. cheese
2 Tbls Vlasic dill relish
,Cooled peas,
4 chopped hard boiled eggs,
1 c. real Mayonaise
,1 Tbls dijon mustard,
1/2 tsp Lawrys seasoned salt
, shake of garlic granules
,shake of Mrs. Dash,
salt and pepper and stir well.
Put in dish and I put 1/4 cup crispy fried bacon on top for garnish.
Put in fridge to get nice and cold.