Growing up, I never could understand why my friends did not like liver, I thought it was the most awesome dinner ever, Now I understand. NO ONE can make this dish like my mother. Hers is so tender you can cut it with a fork and it has its own gravy she makes with it, I crave this dish a lot, but even I can not make it like mom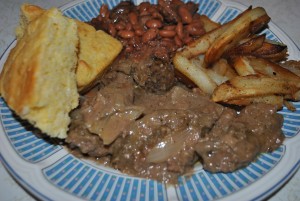 Shelma's Way to Make Beef Liver and onions
2 pkg beef liver
onion
self rising flour
oil
water
Salt
Pepper
Beat your Chop block liver till good and tender on each side (beat it to death lol) Wash each piece under cold water and roll heavily in flour on plate,
put in hot skillet with oil and  say 2-3 Tbsp butter. fry for a few minutes.. stand over it.. it doesn't take long for liver to get done..
salt and pepper,  after liver is fried,  take  pour over liver a cup and 3/4  of water. Then add a little more . pour a  little bit at a time I don't measure  stir.. makes a bit of a gravy salt and pepper again put cut up whole onion over top and turn heat all the way down to warm/simmer and put lid on … now if you don't get much gravy you can always add a bit of cornstarch to a cup and add a tad water and add to pan will fix the problem.. but you shouldn't have to do that..
October 2023
M
T
W
T
F
S
S
« Sep
1
2
3
4
5
6
7
8
9
10
11
12
13
14
15
16
17
18
19
20
21
22
23
24
25
26
27
28
29
30
31