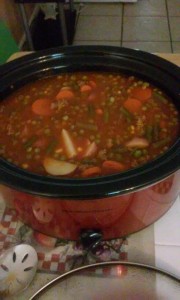 V- 8 Soup
Frozen veggies(corn, green beans, green peas and carrots) also added 1/2 cup of chopped red onion, small red potatoes(quartered) how many you desired, ground beef, brown and drained, and V -8 juice. Put in slow cooker. (What I did, I had put in a large pan on stove to start boiling, then I had put it in the slow cooker for the next few hours to simmer and cook., then put it in on warm till we get ready to serve.
Will be having hot cornbread on the side along with sweet tea….right now it smells so good that you can smell the aroma all through the house.
Comments
Linda Pinkston Dalton

Looks great. We use V-8 in our beef vegetable soup. I always cut a piece of corn bread , add butter as soon as it comes out of the oven. I can't resist.

Lynn McGinnis

A way to keep provisions on hand for veggie beef soup is to keep 1 can corned beef, 1 bottle V8 juice, bag of frozen veggies, can of small whole potatoes cut in half or quartered. All this in a crock pot on high for awhile and it's yummy! Always keep on hand for cooler weather. If I have onion or celery, I add those, but if not, this is a great soup.