QUICK AND EASY LEMON CREAM CHEESE CRESCENT RING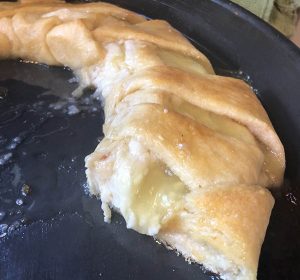 This recipe is SEMI-HOMEMADE, meaning, you do prepare some of it, but not made by scratch, it is just a quick and easy  no fuss and delicious pastry for breakfast or dessert!  I do have a made from total scratch recipe on here if you wish to make your pastries from scratch. Of course those are better and flakier, but be prepared to spend some time making them.  For my homemade pastry go to http://cookingwithserena.com/danish-pastry/
2 cans Pillsbury Crescent Rolls
Bakers Joy Spray
1 8oz. Block Cream Cheese
Confectionary Sugar
Vanilla
Lemon Creme  Pie Filling (Can make homemade if wish)
Strawberry Jam
Using a pizza pan I spray lightly with Bakers Joy
open two cans of Crescent Rolls and arrange fat side from center, with small sides hanging over sides of pizza pan (you can place a bowl in the middle if desire to get a better circle.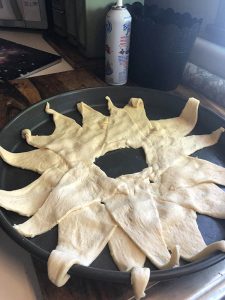 Using Mixer, beat 1 block of creamed cheese and add in a cup or so of Confectionary sugar, dont need to measure, add a little vanilla and beat till creamy and lump free. Taste, should still have taste of cream cheese, just a bit sweeter.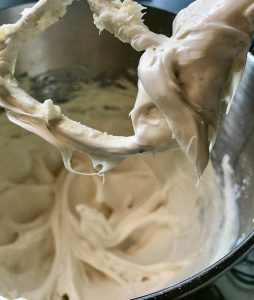 Spread your cream cheese around your flattened part of your crescent ring. You will use all of the cream cheese.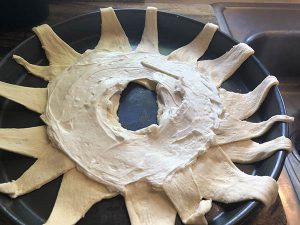 Next put your lemon on top, you will not need a whole can if using canned filling, don't over fill  (just save the rest for another dessert, put  leftovers in fridge with plastic wrap) Musselman's is a good brand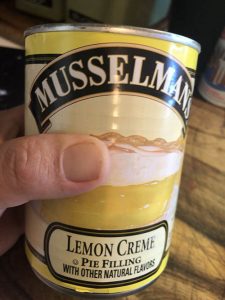 Take some Tbsp of strawberry Jam and place randomly around ring.
(forgot to take pic of this part) 
Fold up the inside of ring best you can so filling doesn't go everywhere while baking, and if keeping an oven safe bowl in center, spray the sides of the bowl with bakers joy so the crescent ring won't stick to bowl
start to pull your pointy sides over and attach to the center dough, alternate the direction as. you fold it up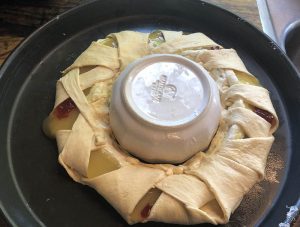 sprinkle top with light dusting of granulated sugar and put into oven at 350 degrees
let it bake until done, about 20 minutes or so , careful not to let bottom burn.. once bottom is done and top still needs some color just switch oven to broil and let the top get a little color.. take out and make a quick glaze using confectionary sugar, milk or water in small amounts and a drop of corn syrup for flavor.
mix well , no lumps, and drizzle over the pastry ring.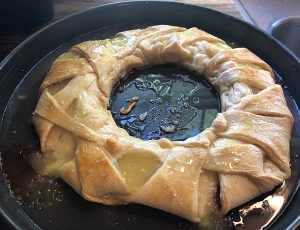 Let ring set as long as you can before cutting.. the longer it sets up, preferably a couple hours, the better it will be. Enjoy. Like I said you want homemade from scratch use the above link in the description, this is just for those lazy days.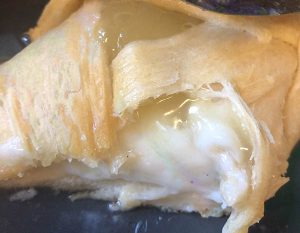 October 2023
M
T
W
T
F
S
S
« Sep
1
2
3
4
5
6
7
8
9
10
11
12
13
14
15
16
17
18
19
20
21
22
23
24
25
26
27
28
29
30
31