I wish I would have taken a pic of this cast iron griddle BEFORE I started rescuing it … You can't imagine the crud .. Got it from thrift store for two bucks, when hubby saw it he said it was too far gone but with some good ole fashioned elbow grease it is ready for me to cure in the stove
RESTORE YOUR CAST IRON
some are so hardened that you need steel wool to sand down, this one the baked in crud was soft enough in some places that I actually was able to get my thin blade that is in the picture underneath and scrape I kept at it and then used a spoon to get around the edges then some steel wool then scraped again..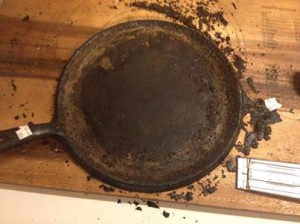 then clean it and dry it and put some oil on to soften the crud you missed and start all over..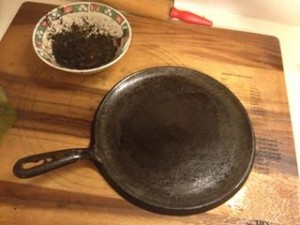 then clean it, dry it, oil it lightly let it set all night.. then if your happy with it you can start the curing process in the oven.. put some veg oil over the whole pan back front handle ect using rag, rub it in evenly and lightly not heavy or you will have goopy bumps in the curing process and will have to start all over.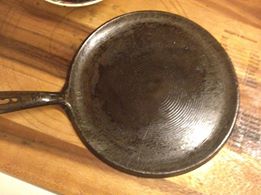 put in oven to cure for 1 hour 30 minutes and when oven timer is done turn off oven and leave it alone leave it in there till it starts to cool down on it's own.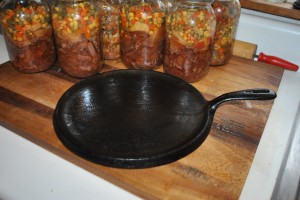 several curings and you will have a shiny black finish again..
COMMENTS BY GROUP MEMBERS ON MY FACEBOOK GROUP
Serena Adkins Ellison

This photo above was a griddle I picked up from the thrift though .. someone really abused it

Lynn McGinnis

Seems that I had a post that showed that you could use a peeled potato to clean one up. It worked for my brother.

Carol Gilliam Massey

My mother gave me my grandmothers 4 skillets 1 corn pone 1 griddle and 1 bean pot they have been in a box for 8 yrs and they are gummy I tried to SOS them but it won't come out any body have any suggestions how to get the sticky out

Lynn McGinnis

Are you sure you got it hot enough, Carol? That usually works. I tried to cure mine & got too much oil in the bottom and they turned gummy. If the fire didn't work, then you might have to resort to the steel wool…and Dawn.

Pamela Jean Davis

My dad would always take a blow torch and heat it and scrape it till all the crud was off inside and out. Fond memories.

Serena Adkins EllisonCarol Gilliam Massey

do you have a self cleaning oven? Since you have so many pieces to do, try putting them all in the oven and then set it to clean.. the gummy stuff should turn to ash.. if not then you will have to do it the old fashioned way elbow grease and some steel wool
Markeen BelongstoJesus Gillette

Most of my cast iron, I picked up for a song, at yard sales, completely rusted out… LOOKED hopeless… BUT…. I KNEW better ! I KNEW I could repair them… yes, take the rust out with salt ! THEN, season it… and you will LOVE that pan forever !!! I have a nice assortment of them

Jill Abbott Moore

I restored a gorgeous 1800's gem pan to perfection, but it was tedious work!! I do love my cast iron!!

Jen Nicole Goff Lech

Soak in vinager water over night up to two days all rust and will come off easily then season and walah

Carol Gilliam Massey

Thank you do much for all this info I'm fixing to start on my grandmothers pans now!

Joyce Anne Bacon

If I get burned on food, I use hot water and one of those Pampered Chef scraping tools