HOW TO FREEZE FRESH BLUEBERRIES
okay so sounds simple enough I know but I thought I would post it anyways.. because yes although it is relitavly easy you may make that one mistake many people make when freezing fruit.. you might end up with a FROZEN CLUMP of fruit instead of being able to reach down in your ziplock bag and get out what you need whether it is a cup or ONE blueberry.. with this simple method you can do just that!!!
We got our fresh blueberries here in WV on Blueberry Hill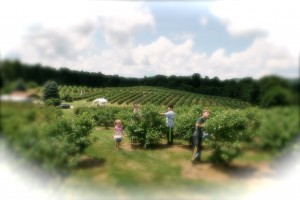 It was a lot of fun picking your own blueberries and such a beautiful peaceful atmosphere if you ever come to Southern WV during Blueberry Season please visit..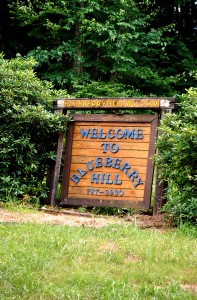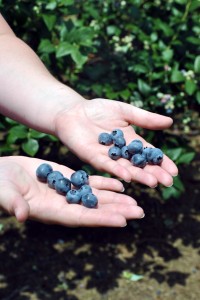 Okay so now you got your berries home and your ready to put them up for later use.. so freezing is a great way to do that!
Supposedly they are supposed to be put up to freeze without washing first.. They say if you wash first you will lose some of the juiciness and the skins will be tougher.. Well I  have done them both ways and I honestly can't tell a difference.. but.. here ya go.. I will post

BOTH WAYS

for you just so I wont be called out as incorrect hahaha..  Hey what do I know.. you learn things everyday right.. no shame in that..
So this batch I have NOT washed.. I just picked out all the unripe and rotten or split berries and I have gently poured them on a cookie sheet.. now I place it in the freezer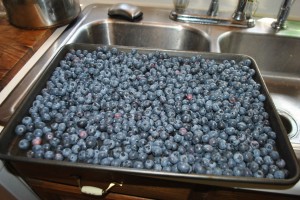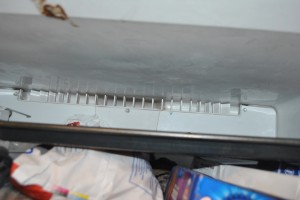 Now as soon as they are "just" frozen, I take them out and gently but quickly bag them in a freezer gallon bag. Careful not to handle them too long.. I do not want them sticking together..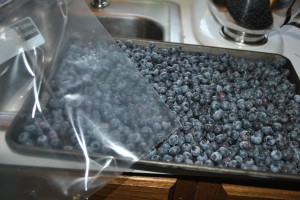 When these come out you will wash them because remember they are NOT washed..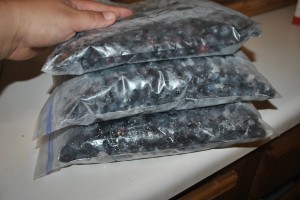 Now for this batch I DID rinse them first.. because I like to just measure right out what I want and throw it into the recipe not have to wash and de stem ect.. it worked fine for me but do which ever method you like. They are your berries.
what you do is rinse them in batches that are easy to handle because you will need to be able to look for bugs, stems, rotten or unripe berries that may have gotten into the mix when you were picking..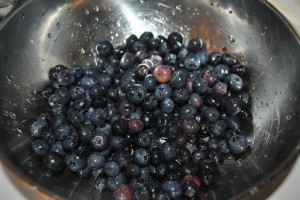 Okay so they are rinsed now you get a cookie sheet and lay out  a clean kitchen towel on the sheet.. and after draining your berries well and gently remember the mush easily.. you will turn them out onto the towel..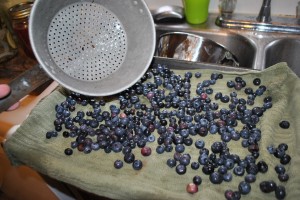 You will then put these berries in the freezer just till they are froze, then put them in a freezer ziplock baggy, get the air out, seal and put back into the freezer while you finish your other batches of freezing berries.. keep adding the frozen berries to the baggy until it is full.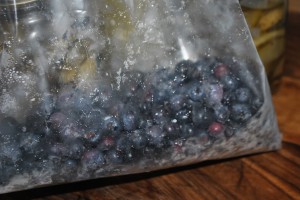 Now anytime you want berries for a recipe or even one or two to eat you can reach right in and get what you need even measure from the bag ..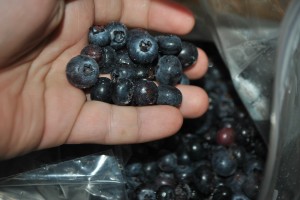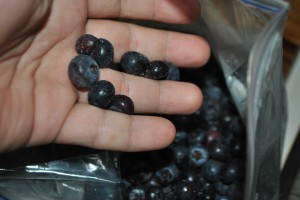 when done measuring out what you need ..put them right back cause they will thaw out FAST and then they will be sticking together like a clump.. get what you need quickly and put them back.