RECIPE SUBMITTED BY Shawn Lively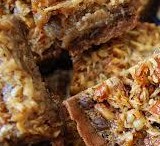 German Chocolate-Pecan Pie Bars

Ingredients

3 cups pecan halves and pieces
1 3/4 cups all-purpose flour

3/4 cup powdered sugar

3/4 cup cold butter, cubed

1/4 cup unsweetened cocoa

1 1/2 cups semisweet chocolate morsels

3/4 cup firmly packed brown sugar

3/4 cup light corn syrup

1/4 cup butter, melted

3 large eggs, lightly beaten $

1 cup sweetened flaked coconut

Preparation

1. Preheat oven to 350°. Bake pecans in a single layer in a shallow pan 8 to 10 minutes or until lightly toasted and fragrant, stirring halfway through.
2. Line bottom and sides of a 13- x 9-inch pan with heavy-duty aluminum foil, allowing 2 to 3 inches to extend over sides. Lightly grease foil.
3. Pulse flour and next 3 ingredients in a food processor 5 to 6 times or until mixture resembles coarse meal. Press mixture on bottom and 3/4 inch up sides of prepared pan.
4. Bake crust at 350° for 15 minutes. Remove from oven, and sprinkle chocolate morsels over crust. Cool completely on a wire rack (about 30 minutes).
5. Whisk together brown sugar and next 3 ingredients until smooth. Stir in coconut and toasted pecans, and spoon into prepared crust.
6. Bake at 350° for 25 to 30 minutes or until golden and set. Cool completely on a wire rack (about 1 hour). Chill 1 hour. Lift baked bars from pan, using foil sides as handles. Transfer to a cutting board; cut into bars.
October 2023
M
T
W
T
F
S
S
« Sep
1
2
3
4
5
6
7
8
9
10
11
12
13
14
15
16
17
18
19
20
21
22
23
24
25
26
27
28
29
30
31