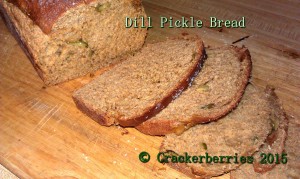 Hello and thank you for adding me to the group. My name is not really Crackerberries, but it's the name I've been using for quite some time now. I have been cooking for years, in fact went to culinary arts school many years ago. I have a blog and am not afraid to try new recipes and post the ones that kind of go flop. (I figure people can tell me how to flip them over and make them better.) That being said I'd like to share what I thought was something brand new, but found there are many different versions of this out there. This one I winged all on my own and didn't alter and I am so impressed with it, that I will make it over and over again, and continue to try to make better. Cheers!

Dill Pickle Bread
1 cup warm water
¼ cup molasses
2 tbsp. butter
1 cup chopped dill pickles
2 cups whole wheat flour
1 cup all-purpose flour
½ cup oatmeal
2 tbsp. dry milk
1 tsp. salt
2 tsp. yeast
Combine all ingredients in order given in bread machine. Set to dough setting. Once complete, transfer dough to lightly greased bread pan. Cover and let rise while oven preheats to 350º. Bake at 350º for 40 minutes. Remove from pan immediately. Rub with butter and sprinkle lightly with kosher salt.
• This is my first try at making dill pickle bread. I want more pickle taste, although Tall Cool ne says it's fine just the way it is. Next time I'm going to add a little more pickle and some dill weed to the batch.