RECIPE and All PHOTOS  SUBMITTED BY Debbie Fann Young
DEBBIE'S ZUCCHINI BURGER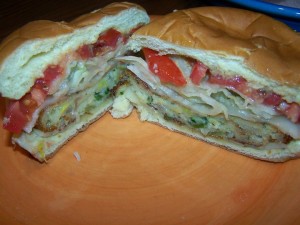 To make the zucchini patties:
grated zucchini
… you can add some italian spices or just some dill spice is really good too
add onion and green pepper
egg
self rising. flour
little oil and some milk too
NOTE: I use hot peppers sometimes if I want them a little spicy LOL…
mix it all up and I drop them in hot oil in an iron skillet… just drop them with a spoon and kinda make into a hamburger size pattie… brown really good on both sides….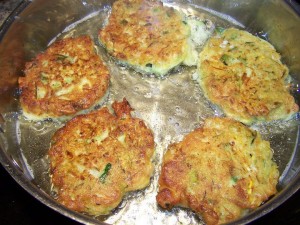 we love them so much I have to grate zucc. up and freeze into baggies and keep for zucc.. burgers all winter
we love them so much.. I like to just fry them in olive oil and dip in the vadelia onion dressing that is the Ken's steakhouse brand…. when I make them a burger i use that on them and lettuce tom. and provolone cheese! now that is sooooo good!