CHERRY DR PEPPER  HONEY GLAZED HAM SERVED WITH PINEAPPLE SLICES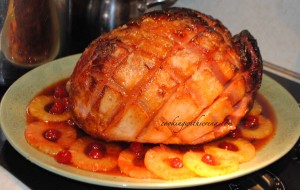 again, much like all my other Candy and Glazed Ham recipes on here, you will find there is no "real recipe".. but a process.. I kinda just do my own thing..
This one turned out SUPER delicious…
My key ingredients
of course the ham… (I always use Superior brand, TAVERN HAM)
Dr Pepper
red cider vinegar
Sweet Baby Ray's Honey Mustard Sauce
Pure Honey
Brown Sugar
White Sugar
Whole Cloves for aroma and presentation ( I personally do not leave them in before eating)
1 whole jar Marichino cherries and juice
1 can of pineapple slices
Fat from Ham trimmings
First off if your ham has a lot of fat you need to trim some of it down.. not all of it.. just some or it will be too flabby to hold all the good sticky candy goodness that makes your ham a super star.
then you will take a sharp knife and score across one way then the other way to make diamond pattern in your ham..
next take whole cloves and push into the center of each diamond. (these make the best aroma also they are a beautiful traditional look for the table but I personally do NOT keep mine in before serving.. I do not like the taste or texture a whole clove brings)
Put in your roasting pan uncovered at 325 degrees in the oven. My ham is already fully cooked but I am slow cooking it to heat it through. 15 minutes for each pound. So about 2 1/2 hours for me I set my timer for but as the time goes on I will be adding glaze ext to my ham … for now I just put the ham in and set my timer and when the ham starts to smell nice I come in and add a little liquid to the bottom of my pan, not too much cause I do not want it to be so steamy in there and moist that my candy glaze does not cling to my ham.. but I don't want my ham to be dry either.. so it is a balancing act..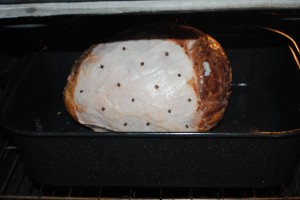 Okay so now I decide to start glazing as the ham has been cooking for about an hour.. I brush my ham with pure honey using a silicone brush.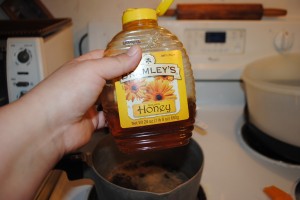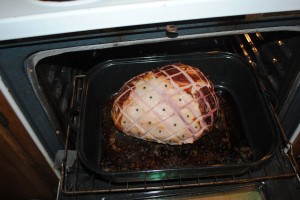 sprinkle/ carefully pat down, white and brown sugar over the honey glazed ham  and back in oven to bake as you prepare the 1st layer of dr pepper candy glaze
Next I take my fat I trimmed off my ham and I cook it down like I would bacon.. careful do not let it burn.. what I am after is that rendered fat.. take it and pour it into your pot once you got it cooked down, you can add a bit of liquid like dr pepper or water to help it cook out..
Now In my sauce pot I add 1 can dr pepper, brown sugar, a little white sugar, a little tab of butter, and a splash of red cider vinegar and a nice squirt of honey mustard … bring it to a boil and stir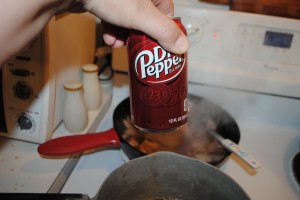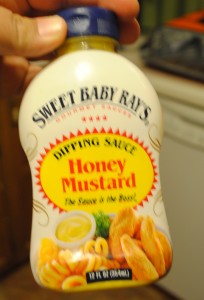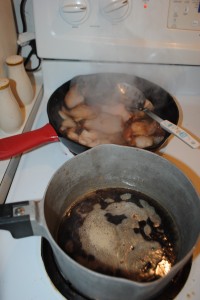 when the dr pepper candy glaze is ready it will start to thicken and reduce.. now is the time to take off the heat and ladle over bit by bit, carefully over your ham … then I pat it down again with brown sugar and white sugar and I let it set under broil while I watch it carefully .. then back to 325 degrees.. (like I said there is a madness to my method)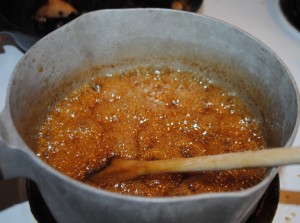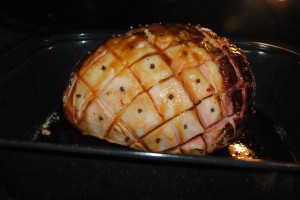 I know start my dr pepper candy glaze all over again on the stove top, minus the rendered fat of course..
and I pour that glaze over top when ready..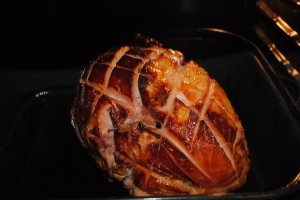 Now when My ham is ready to come out of the oven.. I open my pineapple slices and drain and put the slices in the juice around my ham in the bottom of the pan.. (sometimes I cook my pineapple with my ham but not this time) I also open a whole jar of Marachino Cherries and I pour the cherries, juice and all in the pan with the drippings.. and let it set..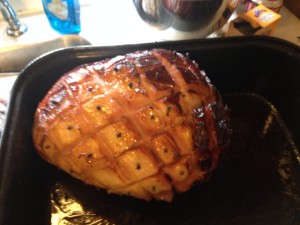 now after it has rested.. I have decided to take out my cloves.. I love how they look, how they smell, but hate the texture they bring and strong flavor when biting into the ham slices.. so out they go..
Put your ham on a platter and add your pineapple rings around the ham… throw cherries all around the edges and in the rings.. add bit of ham juice around the ham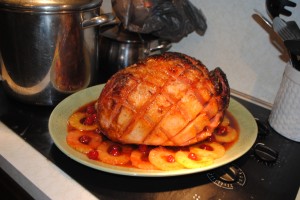 next ladle out some of the ham renderings into a cup you will be using it..
Slice your ham (I start on one end and slice about half and leave the rest whole, it can be sliced later)
pour some of your sweet ham renderings over top of the slices, this makes it extra moist and deliciously sweet..
Enjoy!