BLACKBERRY PEACH DUMPINGS
Basically just a spin off of an old family recipe I posted below the original… for this  I just used my great grandmother Effie Sizemores Blackberry Dumpling recipe only I used one bag of frozen blackberries added two quarts of my home canned peaches .. added a little water and about 3 cups sugar and a 1/2 stick of  butter put on to boil  then did my batter of self rising flour and water with a little oil like granny did.. and some sugar.. mixed it up and dropped into the boiling fruit mixture.. covered tightly and turned the heat down to simmer… let it simmer without peaking for 12 minutes and then served with vanilla ice cream.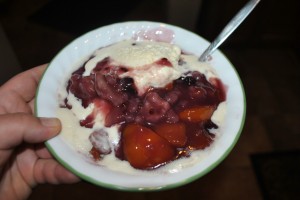 NOTE: BELOW is grandma Effies recipe for plain blackberry dumplings (or raspberry)
GRANDMA EFFIE'S BLACKBERRY DUMPLINGS
1 quart fresh Black Raspberries or Blackberries (or at least or two 1 lb. bags frozen Black Berries)
Self-rising flour and water (we don't measure just mix your flour with water till not too thick not too thin and add about 1 1/2 Tablespoons of oil)
clean then boil berries in water –(About 4-6 cups)
Add 3 cups of Sugar (or more)
Bring berries to a full boil, quickly drop by the spoonsful batter into the boiling stock pot till all batter is gone. Quickly put on lid and turn down heat to a simmer
Let boil 7-10 min without taking lid off
Have a cup with 4 Tbsp cornstarch mixed well with  a little bit of water to the side waiting.
– thicken berry juice with corn starch/ water mixture if needed. sometimes you need it sometimes you don't
Serve warm with vanilla ice cream or plain.