RECIPE AND PHOTO POSTED BY SAM ROBINSON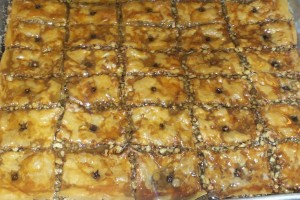 FIND HER BLOG AT SIMPLY SYDNEY http://simplysydneys.blogspot.com/2013/01/baklava.html
Ingredient list
2 lbs chopped walnuts
1/2 C sugar
2 t cinnamon
1 pkg Fillo dough
1 lb butter – melted
Syrup:
4 C sugar
2 C water
2 cinnamon sticks
3 T lemon juice
whole cloves
Preheat oven to 325 F.
Mix together the chopped walnuts, sugar and cinnamon, set aside. Brush an 11 X 16 pan with butter. Open fillo. Lay flat on surface and cover with damp (not wet) towel. Working quickly, as fillo dries out extremely fast, place one layer of fillo in pan and brush with melted butter. Make sure you cover fillo with towel after removing each layer from surface. Repeat until you have 8 layers in the bottom of the pan. Spread half of the walnut mixture on the fillo in pan. Back to the fillo. Layer 4 layers of fillo in pan, brushing each layer with butter. Again, make sure you cover the fillo with the damp towel. Spread the remaining walnut mixture over the second set of layers. Back to the fillo again. Layer the rest of the fillo, should be 6 layers, on top. Brushing each layer with butter. Carefully score the top layers of fillo into desired shapes (square or diamond) about 1 1/2″ X 2. I have found a razor blade or exacto knife to be the easiest to do this. Make sure you do NOT cut all of the way through the baklava. Stud each piece of baklava with a whole clove.
Bake in 325 F oven for 1 hour.
While baklava is baking.  Combine syrup ingredients in a 3 qt sauce pan. Bring to a boil on medium heat. Boil gently for 20 minutes.
Once baklava is baked. Pour hot syrup over baklava. Allow to sit a minimum of 8 hours, preferably over night, before cutting. Follow the score lines and cut through.
This does not require refrigeration. It does freeze well. Makes a minimum of 30 pieces (depends on how large or small you cut the scores.