SERENA'S 13 MINUTE TRASH CAN DINNER IN THE PRESSURE COOKER!!!!!

Okay so my church puts on a Trash Can dinner ever once in a while and it is AWESOME!!!! If you do not know what a trash can dinner is, I have photos on this website of my church's trash can dinner.. click here to see the church Trash Can Dinner Pics and recipe .. ANYHOOOO…. I have been CRAVING this trash can dinner for days… weeks…. months… SO I thought hard on it, and I have been using my pressure cooker a lot lately .. and BOOM the idea hit me!!! TRASH CAN DINNER IN A PRESSURE COOKER.. COULD IT WORK? YES!!! It was MARVELOUS!!!!!!! so juicy and wonderful and in no way did it take hours and hours, and have to feed an army.. just a small army.. MY army.. and only in 13 minutes!!!!!  Here ya go.. enjoy!!! and YES I do take full credit for this recipe.. BAHAHAHAAAA  ~Serena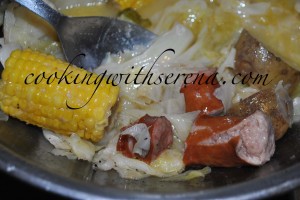 SERENA'S 13 MINUTE TRASH CAN DINNER MADE IN THE PRESSURE COOKER!!!!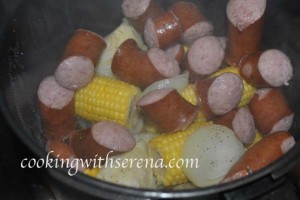 So first off.. you need a pressure cooker.. a large one..
If you have a canning rack that fits in the bottom of your cooker then use it.. if not you will be fine.. but your potatoes may stick a little..
Now take 2 or 3 very large potatoes and cut across in medium thick rounds.. like so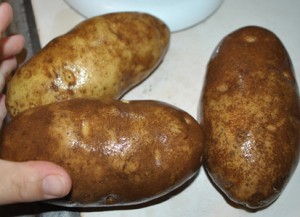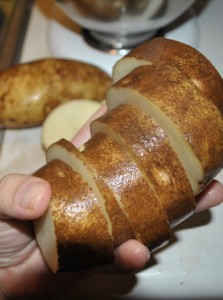 salt and pepper your rounds in the pot heavily…
Next add in your corn on the cob..  I used about 7 halves  and a whole stick of butter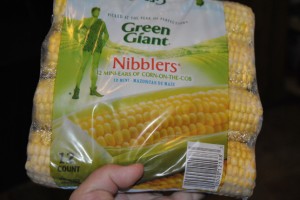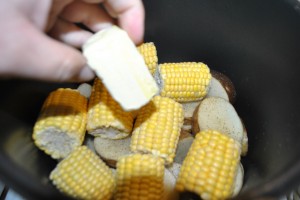 next I cut up my cabbage and leave it in large wedges.. put in what you think you will eat..I  LOVE IT but my hubby doesn't so I am putting just  enough for me and the kids.. but you can pack the cabbage in there. I think it is the best part really..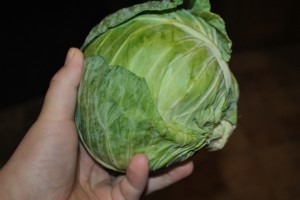 add in your onion sliced in whole thick wedges as well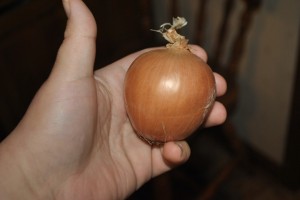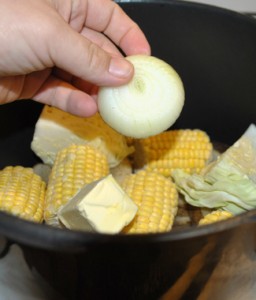 NOW the only thing missing is your meat and water..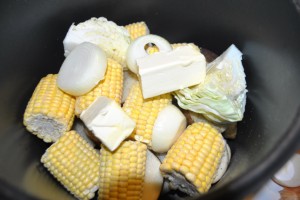 add in your Hillshire Farm Kilbasa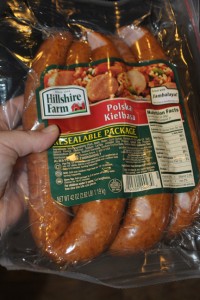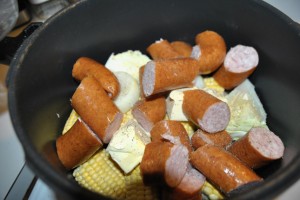 now add in 2 -3  cups of water SALT AND PEPPER  Well..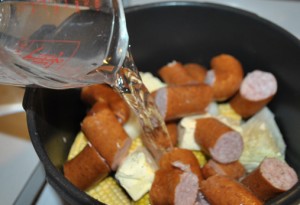 put lid on and LOCK.. put on heat.. bring to pressure… turn dial to high.. and set timer at 13 minutes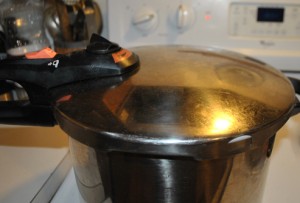 turn down heat some on stove during this 13 minute period..
when 13 minutes are done.. turn off stove and take to sink.. use cold water on side of pot to bring down pressure quickly… once pressure is completely off.. you can open lid with your face away from steam.. this is called the quick release method.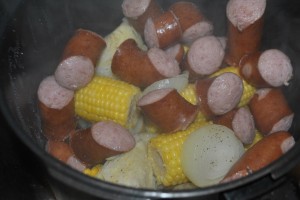 salt it and pour a stick of melted butter over top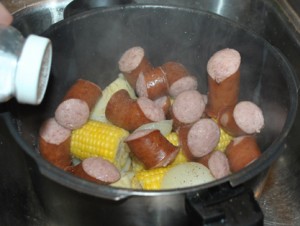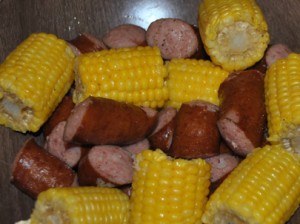 The first time I made it like this I separated the potatoes and cabbage from the meat and corn when serving…. .. no more.. now we put it all together into one big pot.. and pour melted butter over it and salt it again before digging in.. much better that way.. =P
When serving larger groups I like to use my big canner so I can get more done.. just add a little more water is all and do the same way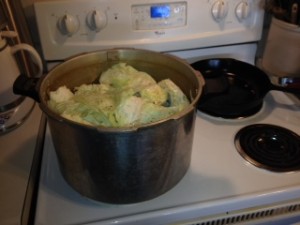 when done don't forget that salt and melted butter.. mmm mmm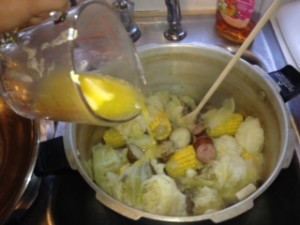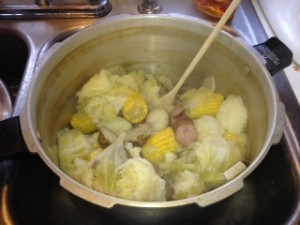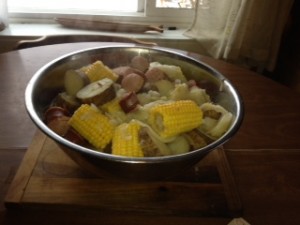 so however you serve it.. together or separate.. it is always delish!!!!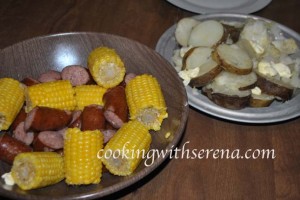 mmmmmmmmmmm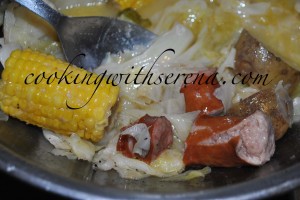 NOTE: you could have added whole chunked carrots if you have them.. ..