Parm Crusted Red Potatoes
Very easy .. cut a few red potatoes into nice bite size wedges, try and make them same so they cook even..
Toss in extra virgin olive oil, salt, pepper, parsley flakes
Add a little olive oil to cast iron skillet and put red potatoes […]
Continue Reading

→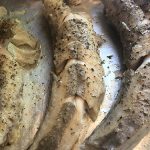 OVEN BAKED SEASONED TROUT
A Fresh, Economic, Easy, Healthy and Tasty meal!
Here in West Virginia trout fishing is a must.
I have many different ways to use your freshly caught trout.
today's method is very easy […]
Continue Reading

→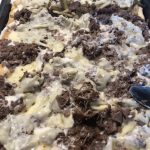 BEEFY ALFREDO –  PHILLY CHEESE CRESCENT BAKE 
1 pkg of thinly sliced steak like Steak Um's brand
butter
black pepper
Worcestershire sauce
Crescent Rolls 2 cans
1 16 oz jar of Alfredo sauce or make small batch of homemade (recipe for homemade is on my site)
Parsley Flakes
[…]
Continue Reading

→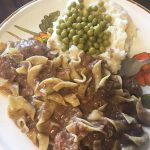 CROCK POT MUSHROOM CHOPPED STEAK AND GRAVY OVER NOODLES
Crock Pot
add:
2 1/2 lbs Beef Cubed Steak
1 can Campbell's Beef Consommé
1 can Campbell's Beefy Mushroom
1 can water
Lea &Perrins Worcestershire Sauce
chopped […]
Continue Reading

→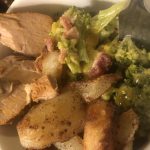 So I normally season my own pork loins, but with the way meat prices are lately, when I saw one for sale at the grocery store that was marked down I went ahead and took it even though it was pre seasoned with what I knew my hubby wouldn't really enjoy […]
Continue Reading

→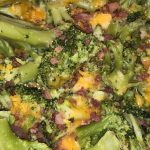 JACKED AND STACKED BROCCOLI AND CHEESE
sometimes the simplest recipes are the tastiest!! 
Take a bag of frozen broccoli and pour into your pot. Add some water and salt and put on high heat. Bring to a boil and put lid on, turn down heat some and let […]
Continue Reading

→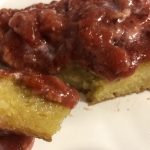 STRAWBERRY LEMON POKE CAKE 
A refreshing summertime dense moist refrigerator cake that will definitely be pleasing to your guests.
Cake
2 cups sugar
½ cup vegetable oil
2  eggs
1 tsp vanilla extract
¼ […]
Continue Reading

→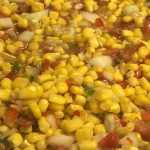 TANGY SUMMER CORN SALAD
Two family size cans of Yellow Corn (drained)
Half of a small green pepper diced small
Half of a small Red bell pepper diced small
large or two small cucumbers diced on the small side
black pepper
salt
4 cloves of garlic minced small
[…]
Continue Reading

→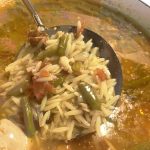 SICILIAN CHICKEN STEW
First add to your enameled Dutch Oven, a sliver of butter and some bacon.
Add two cut up stalks of celery, and 1 chopped large onion.
Add in three cloves of […]
Continue Reading

→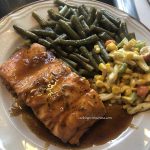 Salmon skin on Salt and pepper, to season tablespoon olive oil  dusting of paprika 4 tablespoons butter (or more) 6 cloves garlic, finely minced 1/3 cup  honey 3 tablespoons water 2 teaspoons soy sauce 1 tablespoon lemon juice 1/2 cup or so brown sugar  maple […]
Continue Reading

→