RECIPE SUBMITTED from Connie Collins
TUNA CAKES
2 cans of tuna in water drained
1 box stove top stuffing or 1 cup bread crumbs
1 cup shredded cheese
3/4 cup water
1 carrot shredded
1/3 cup mayo
2 tsp sweet pickle relish
Combine ingredients and refrigerate for 10 min. then fry until golden brown on both sides.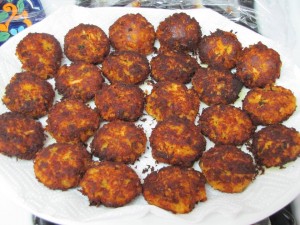 Tuna Cakes … I made the recipe Connie Collins posted and I served these with homemade tartar sauce at our Ladies Lunch Club last week. They all loved it. Thanks for the recipe Connie.