SICILIAN 4 CHEESE STUFFED JUMBO SHELLS AND SAUCE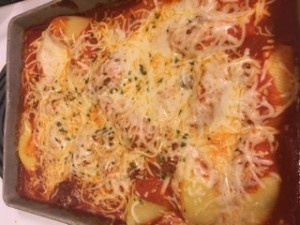 SAUCE:
3 -4 cloves minced garlic
1-2 lbs ground chuck
1/2 small Onion chopped fine
Parsley
Salt Pepper to taste (while browning meat and later in sauce)
Grated parmesan Cheese
little bit of oil to brown garlic beef and onion in..
1 lg regular can Hunts Tomato Sauce + fill it with water and pour in
1 regular can of Hunts Tomato Paste + fill it with water and pour in..
a pinch of oregano
tiny bit of sugar
stir with wooden spoon bring to boil and then put down to simmer the rest of the time while you are filling shells. Make sure you taste to make sure sauce is to your liking before you put in dish…
Boil large shells in salted water till aldente
CHEESE MIXTURE :
1 large egg
3cups grated mozzarella cheese (1 Bag)
1 15 oz carton of Ricotta Cheese (2 cups)
1/2 cup large curd Cottage Cheese
1/2 c Parmesan Cheese
Can add spinach ect at this point or move on…
Directions
Make sauce… Get your Casserole dish, or 9×13 and put some of your sauce in the bottom of dish.
Then you need to mix up your Cheese Filling, and Fill your cooked Shells using a spoon
NOW… you need to place the filled shells in a row on the sauce as you fill them.. cover with the rest of your sauce and tip with mozzarella cheese
(any cheese mixture leftover if any you can put over top of the shells I wouldn't throw it away)
try and cover the shells good so they are wet with sauce
place in 350 degree oven for 20 minutes until Cheese is melted and bubbly..
take out place on wood block and let it rest for a bit before serving…
make a salad or something … it will still be warm… then serve with bread or saltine crackers corn and salad.. =) enjoy