Ranch Pork Chops & Ranch Roasted Potatoes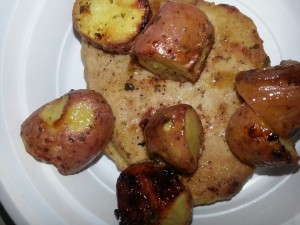 Last nights dinner was Ranch Pork Chops and Ranch Roasted Potatoes. Soooo yummy!
Ranch Pork Chops & Ranch Roasted Potatoes 1 packet Hidden Valley Ranch Original Ranch Salad Dressing & Seasoning
Mix 3 boneless pork loin chops
10 small red potatoes quartered
I placed potatoes in a bowl and sprayed with coconut oil spray (like Pam but healthier) and sprinkled 1/3 of the HVR seasoning over the potatoes and stirred to coat all the potatoes.
I used a foil lined pan big enough for my three chops and the potatoes and started the potatoes at 450 for 10 minutes.
After 10 minutes I added the pork chops that I had sprayed with coconut oil and sprinkled remaining packet of HVR seasoning over both sides. Bake the potatoes and pork chops for 20 minutes, turning once until browned or an internal temperature of 160ºF is reached. Serve immediately.
Next time I'll make my own ranch seasoning to use