RECIPE SUBMITTED BY Cherie Antin Fasbinder
so addictive we call it crack corn
. I'm telling you this is so easy to make and one of my most requested recipes. It is similar to caramel popcorn … but better!!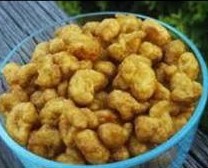 1 1/2 bags Chester brand – Puff Corn – Butter Flavor
1 Cup butter
2/3 cup light corn syrup
1 3/4 cup brown sugar
1 tsp baking soda
1 tsp vanilla
Place puffed corn in greased large roasting pan
Melt butter corn syrup and brown sugar  together. When sides bubble, add baking soda and vanilla.
Mix well as it will foam up. Pour sugar mixture over Puff Corn and stir well. Bake at 250 for 45 minutes Remove from oven and spread on waxed paper Cool and break up