PORK TENDERLOIN ROAST –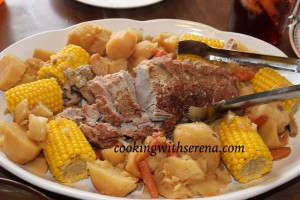 using my  New Cuisinart ELECTRIC PRESSURE COOKER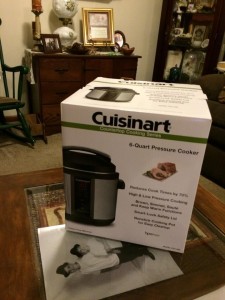 I am used to using pressure cookers but this is my first time buying an electric one. Pressure cookers are wonderful. I like to buy different meats marked down or on sale and freeze them, knowing I will have a beautiful quality meal in half the time using my pressure cookers.. lets see how this new electric one handles my marked down pork loin roast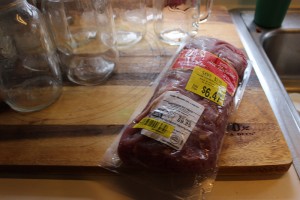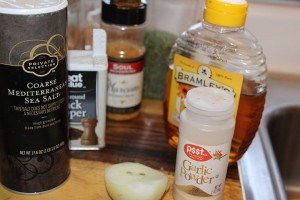 This  Pressure cooker has a wonderful browning feature and although my roast does fit in it, I felt for this shape and cut of meat I would do better to brown my roast in my cast iron skillet like I usually do, to get a nice crust before adding it to the pressure cooker chamber.
I started by tying up my pork tenderloin roast with string (you can skip this part if you wish, purely up to you)
I did a nice rub on both sides with some black pepper, garlic powder, soul seasoning and coarse salt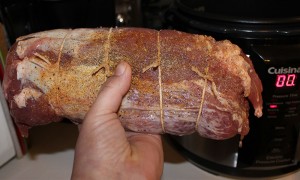 put into my hot cast iron skillet with a little vegetable oil and browned all sides use more coarse salt for a nice crust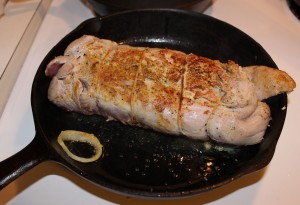 To the pressure cooker  I added around about 2 cups of beef broth
In my chamber pot of my pressure cooker I have added some baby carrots some cut up celery, sliced onion a little thick, then I added  about 2-3 Tbsp pure honey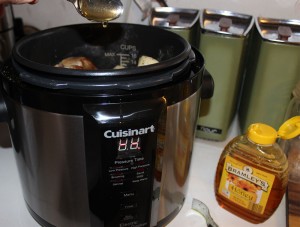 (Note– these veggies are not meant for sides, they are meant to flavor my broth and help infuse my potatoes, if you want some carrots with bite to them you can always quick release your pressure cooker halfway through the cooking process and add the veggies in then bring back to pressure and finish your cooking time)
Now I cut up some potatoes and I leave them very meaty.. don't cut small or they will go away to nothing.. you will basically be making a thick potato gravy if you do that.. I cut mine up healthy chunks because I know they have to withstand the meat cooking temps but I want them in their so all the flavors from the meat infuses into the potato making them delicious. mmmmm
put some of your potatoes on the bottom of the chamber then put in your pork loin roast, put some on top and shake with parsley flakes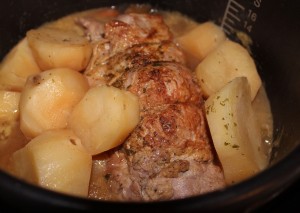 .. now start her up.. put lid on to lock.. make sure your valve is turned right and on my cuisinart model I select high pressure,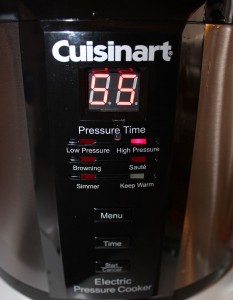 then I put the time in of 55 minutes and I hit start.. the light blinking shows it is building pressure.. once pressure is established the valve will come up and the blinking will stop then count down on my clock starts.. the beauty of THIS pressure cooker verses my old ones which I still love, is that I can walk away from this one and forget it basically.. whereas my older models must be kept close watch or ear on as to keep the temperature evenly regulated.  This makes it nice and very safe for those who are scared of pressure cookers around small children  or those with terrible memories.. also when my time is up this one will go directly to warm until I am ready to take it out..
But ,….I am going to turn my valve and do quick release when my time is up because I am going to add in some frozen corn on the cob..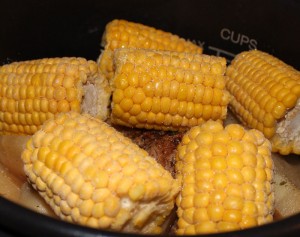 I put my lid back on and turn the pressure valve back  and now I simply put to high pressure setting the timer to 2 minutes and when it is done so is my food..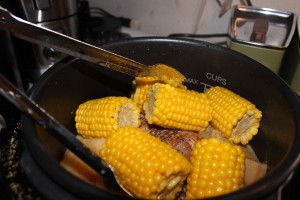 carefully spoon out the potatoes so they won't fall apart, then the roast with tongs, then all the rest of the tidbits and cut off your strings before serving..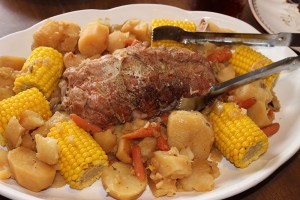 and I pour a little of the drippings over the meat and the rest into a serving cup for the table.  (NOTE you also can use the drippings to make a thicker gravy with a little flour if your meal calls for a thicker gravy)