Pam's Pineapple Upside Down Biscuits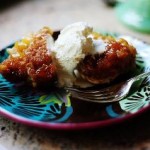 Prep Time: 10 Minutes | Cook Time: 20 Minutes | Difficulty: Easy | Servings: 10
*From "Perfect One Dish Dinners" by Pam Anderson.
The Pioneer Woman
Ingredients
Pineapple
3/4 cups Packed Brown Sugar
3 Tablespoons Unsalted Butter
1-1/2 cup Chopped Fresh Pineapple (I Used Chopped Peeled Green Apples)
Biscuits
2 cups All-purpose Flour
2 teaspoons Baking Powder
1/4 teaspoon Baking Soda
1 teaspoon Sugar
3/4 teaspoons Salt
3/4 sticks (6 Tablespoons) Unsalted Butter, Frozen
1 cup Buttermilk, Plus Extra If Necessary
Preparation Instructions
Adjust oven rack to middle position and heat oven to 450 degrees.
Pineapple:
Heat brown sugar and 3 tablespoons butter in a small saucepan over medium heat to a spreadable consistency.
Pour into a 9-inch round cake pan, tilting to coat pan bottom; top with pineapple.
Biscuits:
Mix flour, baking powder, baking soda, sugar, and salt with a fork in a medium bowl.
Using a box grater, coarsely grate frozen butter into dry ingredients, mixing quickly with fingertips to evenly blend.
Stir in buttermilk with a fork, adding extra droplets of buttermilk over any dry patches, if necessary and mix until dough just comes together.
Turn dough onto a floured surface.
With your fingers, pinch dough into 10 rough rounds and arrange over pineapple.
Bake until biscuits are golden brown and pineapple topping is bubbly, about 20 minutes.
Invert onto a serving plate and serve immediately with vanilla ice cream or freshly whipped cream.