RECIPE AND PHOTO SUBMITTED BY Rina Castillo Trochman
Minestra maritata, wedding soup. It was delicious on a cold camping night.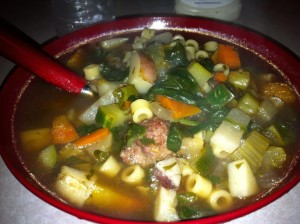 Minestra maritata

Ingredients for meatballs
2 garlic crushed 
1/4 cup parsley
Salt and pepper
1/8 teaspoon oregano and basil chopped fine (Italian seasoning is fine)
1/3 lb veal
1/3 lb pork
1/2 lb beef

Directions for meatballs 
Mix all above ingredients and shape into 2 inch balls. Bake 350 for 25 minutes and set aside when done. 

Ingredients for soup 
2 large carrots diced 1/2 inch
3 zucchini diced 1/2 inch
1 large onion diced 1/2 inch
1 small red and green bell pepper diced 1/2 inch
2 celery ribs deveined and cut into 1/3 inch pieces
1/4 cup parsley diced fine 
1 bag of spinach 
6 garlic cloves minced fine. 
1 large turnip diced 
2 medium red and white potatoes 
8 ounces of tubetti pasta. 
1 container chicken stock 32 ounces
1 container beef stock 32 ounces. 
2 Chicken bouillon (Maggie if you have)

Directions for soup 
Chop all veggies pour into soup add salt and pepper to taste, add stock. Reserve parsley and spinach. Bring to a boil and reduce to a simmer. When potatoes are almost tender cook pasta about 10 minutes then dump parsley and spinach into pot and Cook for 2 minutes and serve.
May 2023
M
T
W
T
F
S
S
« Feb
1
2
3
4
5
6
7
8
9
10
11
12
13
14
15
16
17
18
19
20
21
22
23
24
25
26
27
28
29
30
31