so on my recipe group on facebook  (TRIED AND TRUE RECIPES) I have had quite a few people tell me that this is an excellent Irish Soda Bread Recipe.  it is Ina Garten's Irish Soda Bread. I am posting it here so I can show you the photos  and comments from my group members.
Ina Garten's Irish Soda Bread
4 c all purpose flour, plus 1 T for currants
4 T granulated sugar
1 tsp baking soda
1 1/2 tsp kosher salt
4 T (1/2 stick) cold butter, cut into cubes
(I prefer to use Kerry Gold Irish butter)
1 3/4 c cold buttermilk, shaken
1 Large egg, beaten
1 tsp grated orange zest
1 c dried currants
Preheat oven to 375 degrees. Line a baking sheet with parchment paper. Combine flour, sugar, baking soda and salt in the bowl of an electric mixer fitted with paddle attachment. Add butter and mix on low speed until butter is mixed into the flour. In a measuring cup, lightly beat buttermilk, egg and orange zest. With mixer on low speed, slowly add the buttermilk mixture to the flour mixture. In a small bowl, combine currants with 1 T flour. Add to dough and combine until evenly distributed. Dough will be very wet. Dump dough onto a well floured surface and knead a few times gently. Form into a round loaf and place on prepared pan. Cut an X into the top of the dough with a serrated knife. Bake 45 to 55 minutes, or until tester comes out clean. When you tap the loaf, it will have a hollow sound. Cool on a baking rack. Serve warm or at room temperature, especially good slathered in Kerry Gold Irish butter.
This first photo and comment was submitted by my sister in law Melanie Vance Ellison – I've made Ina Garten's recipe for several years now and I love it! The texture is amazing and I love the slight note of orange…slather with Kerry Gold Irish butter and it's heavenly!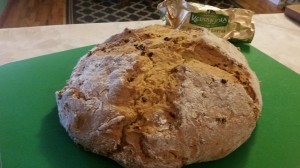 Next Photo and comments  by Alexandra Lim – Ina Garten's recipe is definitely better, tastes more like bread instead of the cake like texture if the one from epicurious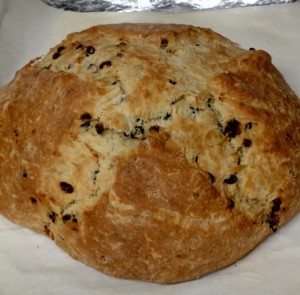 Photo And Comments By Raquel Burson-Silies– 
Blurry photo, sorry. Ina Gartens recipe minus sugar and orange zest. I used dried cranberries.