PHOTO AND TIP SUBMITTED BY Cherie Antin Fasbinder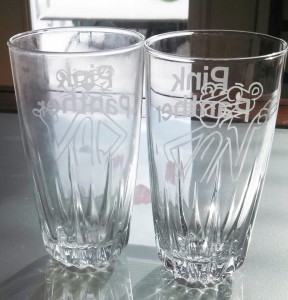 HOW TO GET SPARKLING CLEAN GLASSES
I am so excited… I just learned of a little cleaning trick today.
Most of you probably do not know (haven't had reason to mention), but I collect Pink Panthers – have for over 30 years… have thousands of them!
Anyway, many years ago I found a gal on ebay who etched glasses with whatever you wanted. I sent her jpg's of different pink panther pics and she etched them onto glasses for me. Over all the years they have gotten that awful hard water film in the dishwasher that makes them look dirty.
I decided to google the problem and found an answer… and it works!
Soak the glasses in white vinegar (full strength) for about 15-20 minutes, then hand wash. Just look at the difference!
The glass was not "dirty"… that is the film that built up. I am amazed!! Love my glasses again!
COMMENTS FROM TRIED AND TRUE RECIPES MEMBERS
Sue Richardson

My opinion …. Distilled vinegar is the best household product ever. I have a cleaning business and have used this on about everything imaginable.

Patty Morrison

I use it a lot, for cleaning vases, glasses, also to make my stainless steel pots shiny again. And I also add it to clothes that I can't dry in the dryer, so that they will feel soft

Lynn McGinnis

I also put it the fabric softener dispenser sometimes. Doesn't make the clothes smell like vinegar either.