RECIPE AND PHOTO SUBMITTED BY Joanna Stringer Goff
Green Chili Meatloaf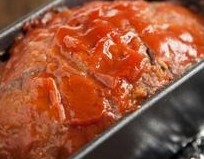 This flavorful meatloaf is made with ground beef and chopped mild green chile peppers, along with other southwest-style ingredients. Pepper Jack cheese tops off this tasty meatloaf. The cheese doesn't agree with hubby's tummy so I leave it off "sometimes~"
Cook Time: 1 hour, 20 minutes
Ingredients:
•1 1/2 pounds lean ground beef
•1/2 pound ground pork
•1/2 cup soft bread crumbs
•1/4 cup finely chopped onion
•1 large egg
•3/4 teaspoon salt
•1/4 teaspoon pepper
•1 1/2 teaspoons chili powder
•2 tablespoons chopped cilantro
•1 can (14.5 ounces) chili-seasoned diced tomatoes, divided
•2 cans (4 ounces each) chopped mild green chile, drained
•3 to 4 slices pepper jack cheese
Preparation:
350°. Lightly oil a 13x9x2-inch baking pan.
In a large bowl combine the beef, pork, bread crumbs, onion, egg, salt, pepper, chili powder, chopped cilantro, and about half of the tomatoes; reserve the remaining tomatoes for later.
Shape into a loaf and place on the prepared baking pan. Bake the meatloaf for 1 hour and 15 minutes. Top with the sliced cheese and continue baking just until cheese is melted, about 2 to 4 minutes.
Heat the remaining tomatoes and serve sliced meatloaf with a spoonful or two of the tomatoes