PHOTOS AND RECIPE SUBMITTED BY Brianna Hubbard
My grilled flatbread with white sauce, caramelized onions, spinach, and smoked summers sausage. It was so so good!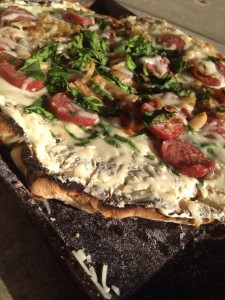 I can't really give an exact recipe because we kinda just threw it together. I used some cheater things to make it faster. We used a just add water pizza dough and put it on the grill. When the one side was charred we flipped it and put a white sauce made of Greek yogurt cream cheese, garlic, Italian herbs, red pepper flakes and a little milk to thin. Then just tossed everything else on top. Super super simple.