Traditional Spicy Shrimp & Chicken Gumbo Full Recipe>> https://drive.google.com/…/0B-e0zqA_r4cCN0Q4MTdwSzl1b…/view…
Ingredients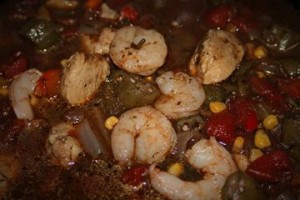 1 lb large shrimp peeled and deveined
2 boneless, skinless chicken breast cut into 1" pieces
¼ cup light olive oil
2 tablespoons all-purpose flour
1 large sweet onion roughly chopped
1 bell pepper roughly chopped
1 tablespoon chopped garlic
1 stalk celery finely chopped
2 ½ cups okra sliced into ¼" pieces
2 bay leaves
2 cans (14oz size) chopped tomatoes with juice
1 can (14oz size) whole kernel corn
6 cups water
4 teaspoons Creole seasoning
1 or 2 (how hot do you want it) teaspoons cayenne or chipotle pepper
2 teaspoons table salt
1 teaspoon black pepper
Directions
In a large stock pot (Not cast iron) heat oil and cook chicken until tender. Remove chicken and add flour stirring constantly until a rich brown roux forms. Slowly add water while stirring and bring to a slight boil add chicken and all remaining ingredients *EXCEPT OKRA AND SHRIMP* and allow to slightly boil while covered for at least 45 minutes, while stirring occasionally. Add shrimp and okra and allow to cook for 15 more minutes. Remove and discard bay leaves and serve on a bed of your favorite rice.
Cooking Notes
The reason I don't use cast iron (my favorite) for this recipe is because when the acid in the tomatoes reacts with the cast iron it turns the gumbo black. It won't hurt you but it's just not as pretty.
I use Tony Chachere's creole seasoning and am always pleased with the results. Also it can be purchased almost anywhere and it won't break the bank.
The reason I wait until the end of cooking to add the okra is that it cooks fast and I like when the seeds still pop in your mouth also if overcooked it will make your gumbo very thick.
I learned to make gumbo back in the early 80's from some good ole French Cajun's down in Houston, a great bunch of folks and tremendous cooks but kinda hard to understand.
Hope You Enjoy, Andy