CANNING RULE #1
DO NOT RUSH CANNING!!!
Every canner it seems has to learn this lesson the hard way. No matter how experienced you are you just can not rush your pressure canning process time.
Here is an example.
I was doing a ton of canning one day and I had a batch of green beans on the stove under pressure and a batch ready, waiting to go in.. and some pickles lined up after that.. Well after my cannner had reached 10 lbs pressure and cooked for the whole 25 minutes, I turned it off and  I was SUPPOSED to leave the pet cock alone and let the canner come down from pressure completely on it's own.. with NO help or release of pressure in any way.. well after  a good little bit of time had passed I thought I could "help" it along a little by taking off the weight so I would be able to free up my canner quicker.. .. WELL I was stupid!
What happens when you do that is you are pulling out all the moisture and water from your jars .. literally.
I got lucky and no jars busted.. and only two were bad enough on water level that I had to open them and eat..  I can't imagine all 7 quarts wasted ..
Well here is a photo for you too see the difference.. the one I am pointing at is one that had been rushed.. the other is one that was done the exact same way but was left alone to cool down on it's own.. see the difference?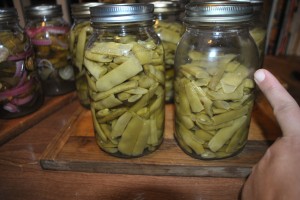 Calendar

April 2020
M
T
W
T
F
S
S
« Mar
1
2
3
4
5
6
7
8
9
10
11
12
13
14
15
16
17
18
19
20
21
22
23
24
25
26
27
28
29
30

Meta