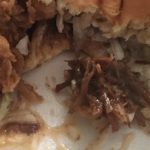 BEAR BBQ using Canned Bear and 1 pkg Boneless  Beef Ribs
Place on low in crock pot 1 family pack of boneless Beef Ribs ..
add a little pepper a little salt a little McCormick BBQ rub and two tablespoons of garlic herb butter add a tiny bit of […]
Continue Reading

→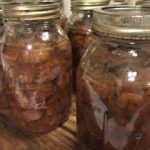 CANNED WV BLACK BEAR MEAT
Take 7 clean, hot quart sized mason jars, and pack with cubed chunks of Bear meat , pack tightly in the jars leave 1 inch head space. Add 1 Beef boulion cube to each jar.
if desire may add 2 Tbsp Worcestershire Sauce
ADD NO […]
Continue Reading

→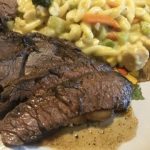 On
September 30, 2020
By
serena

Paul's Smoked WV Black Bear Roast
Original and Spicy BBQ
He used two small bear roasts 2-3 lbs each
Marinated them both overnight in Lea and Perrins Worcestershire sauce in covered container.
Next day
For Original :
Rub all over and up sides of roast using simply –
[…]
Continue Reading

→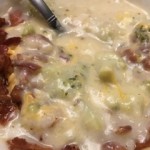 On
September 23, 2020
By
serena

HOMEMADE CROCKPOT POTATO CHEDDAR & BROCCOLI SOUP
Before and after pics 😂
I always make my homemade potato broccoli and cheese soup on the stovetop but this morning to save time when I got home, I used my crock pot to make my same homemade soup
Turned out great!
It […]
Continue Reading

→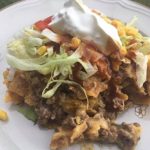 On
September 22, 2020
By
serena

Trailer Trash (AKA BAKED FRITO TACO PIE)
Brown 2 pounds ground beef
With just a thin slice of chopped onion and about 3 Tbsp of chopped green bell pepper
Add a tad of oil and brown meat. Add black pepper
Drain Add a healthy amount of Tones Taco […]
Continue Reading

→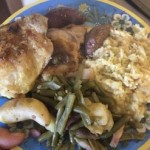 Vegetable Roasted Chicken & Fingerling Potatoes
Bone in – Skin on- Chicken thighs
Brush with olive oil lightly
Add 1 package of Knorrs brand Vegetable Mix with 2 Tbsp Olive Oil
Brush onto chicken
Lightly […]
Continue Reading

→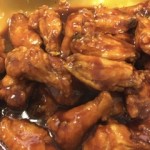 SERENA'S SWEET & TANGY WINGS
This recipe calls for one family pack of wings
Cut off the wing tip and discard (or you can save them for making chicken stock)
Separate at the joint.
Place in a bowl
Sprinkle […]
Continue Reading

→

Canned Pork Tenderloin
I do RAW PACK
Slice large cubes of pork.
Pack in to hot jars, leaving 1 inch head space add 1 teaspoon of salt to each quart adjust your caps process pints for one hour and 15 minutes quarts one hour and 30 minutes at […]
Continue Reading

→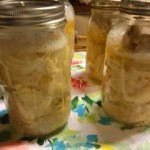 Canned Chicken
I do RAW PACK
Can do bone in or boneless
If doing Chicken on bone, Separate Chicken at joints.
If doing boneless cut into large chunks
Pack chicken into hot sterilized jars
Leaving 1-inch headspace
Add 1 tsp salt to each quart
1/2 […]
Continue Reading

→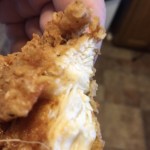 Making CRISPY Fried Chicken today
And some boneless chicken strips as well
My hubby's favorite kind.
I usually make Country Fried, where you don't completely submerge the chicken.. takes longer but that's my favorite
This is good too
Use 1 egg a little water, about […]
Continue Reading

→