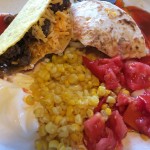 SQUIRRELY TACOS
you need 2 squirrels at least..
I throw them into my pressure cooker with a little water (maybe a cup to a half a cup) , a chicken bullion cube, a tbsp or two of chopped onion, parsley,  pepper, a little salt and some Tone's MSG [...]
Continue Reading

→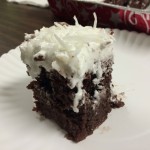 RECIPE AND PHOTOS SUBMITTED BY MY FRIEND PATTY TOLLIVER from work.. =)
was good.. a lot like my butterfingers cake I make but the coconut was just so fresh and nice.. this makes an AWESOME cake to take to any party or picnic.. everyone loves the lite feel on the tummy.. not [...]
Continue Reading

→
On
September 20, 2015
By
serena

pizza pinwheel
1 17.6-ounce package puff pastry, thawed to room temperature
½ cup marinara
3 cups shredded part-skim mozzarella cheese
½ pound sliced pepperoni
PREPARATION
Preheat the oven to 400º F. Line a baking tray with parchment paper and set aside.
Roll out one sheet [...]
Continue Reading

→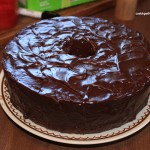 On
September 7, 2015
By
serena

OLD FASHIONED CHOCOLATE FUDGE POUND CAKE
3 sticks butter
3 cups white sugar
5 eggs
1 cup sweet milk
6 level Tablespoons of Cocoa
3 cups all purpose flour
1/2 tsp baking powder
1/4 tsp salt
2 tsp vanilla
Cream butter together well. Add sugar one cup at a [...]
Continue Reading

→

Serena's Apple Lemon Pound Cake
7 eggs  (separated- place whites in a large bowl. Let egg whites warm to room temp)
1 c. shortening
1 stick butter
3 cups Granulated White Sugar
1 Tsp Lemon Extract
1/2 tsp. Almond Extract
1/2 Tsp. Coconut Extract
3 cups all purpose flour
1 tsp ground cinnamon [...]
Continue Reading

→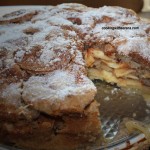 8-11 Granny Smith apples mixed with some Golden Delicious Apples, peeled and sliced (according to size of apples mine were smaller)
cinnamon- sugar
3 eggs
1 1/2 cups white sugar
1 1/2 cups vegetable oil
[...]
Continue Reading

→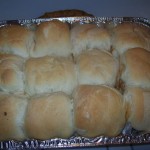 RECIPE  AND PHOTO SUBMITTED BY Patricia Stover
PATRICIA'S EASY PEPPERONI ROLLS
I made 2 dozen of Pepperoni Rolls yesterday. They freeze great so it's nice to reach in the freezer for a quick snack and heated in the microwave.
I make them using frozen [...]
Continue Reading

→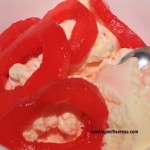 RED HOT – CANNED CUCUMBER RINGS AKA – CHRISTMAS CUKES 4 quarts =1 gallon
2 gal oversized whole cucumbers 2 c pickling lime 9 qt water 1 c white vinegar Christmas Red Food Coloring 1 Tbsp alum 8 stick cinnamon 8 c water 10 c sugar (use a whole 5 lb bag [...]
Continue Reading

→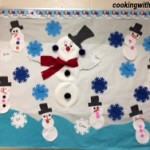 PAPER PLATE SNOW MAN – WINTER SCENE
Let it Snow~ Let it Snow ~ Let it Snow
Well this board is a must if you live where we live.. here in West Virginia we get LOTS of snow..
and the kids LOVE IT!!!
So this was really easy . We [...]
Continue Reading

→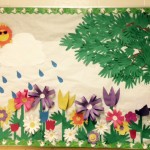 SPRING SHOWERS BRING FLOWERS BULLETIN BOARD
use a white background
paint a tree tree on the side with some branches coming out
next take A LOT of cut outs of hand prints and use for leaves
the clouds I made by cutting out my clouds then mixing Elmer's Glue with [...]
Continue Reading

→
Calendar

October 2015
M
T
W
T
F
S
S
« Sep
1
2
3
4
5
6
7
8
9
10
11
12
13
14
15
16
17
18
19
20
21
22
23
24
25
26
27
28
29
30
31

Meta