Antique Recipe from Searchlight Cookbook
Chocolate Cream Pie
1 cup evaporated milk
1 cup water
2 eggs well beaten
1/2 cup sugar
4 Tbsp flour
1/4 tsp salt
1 tsp vanilla flavoring
1 square chocolate
Melt chocolate over hot water. Add flour, 6 tbsp sugar, and salt.
Combine milk and water.
Add [...]
Continue Reading

→

YEAST DOUGHNUTS
3 to 3 1/2 cups all purpose flour
2 pkg active dry yeast
3/4 cup milk
1/3 cup sugar
1/4 cup shortening
1 tsp salt
2 eggs
Cooking oil or shortening for deep fat frying
glaze or granulated sugar (optional)
Combine 1/2 cups of the flour and yeast.
Heat together [...]
Continue Reading

→

CHERRY PECAN BREAD
lightly grease a 9x5x3 inch loaf pan and set aside.
2 cups all purpose flour
1 tsp baking soda
1/2 tsp salt
3/4 cup sugar
1/2 cup butter
2 eggs
1 tsp vanilla
1 cup buttermilk
1 cup chopped pecans
1 (10  oz) jar maraschino cherries drained and chopped [...]
Continue Reading

→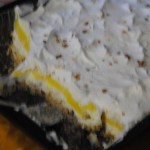 Recipe Submitted By Brenda Woodyard Manning
she made this for a church dinner and I tried it and it was DELISH!!! I tried to take a pic of it, but my pic came out blurry.. but I definitely will make this recipe.
Lemon Lush
Step 1: Melt 1 stick margarine
[...]
Continue Reading

→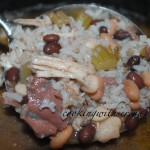 So you have many stews out there.. you have your hobo, your irish, your mulligan, your brunswick, your Jambalaya  your cowboy stew and on and on.. one thing these all have in common.. there is NO RULES!  Just get a pot, (or in my case today a crock pot) and throw it [...]
Continue Reading

→

Cajun Shrimp and Sausage Pasta
Ingredients
1/2 – 3/4 lb cooked fettuccine
2 TBS olive oil
1 lb peeled, deveined raw large shrimp
1 TBS plus 2 tsp Essence seasoning (recipe below – I think you can buy this, too.)
1 1/2 hot linked or smoked turkey [...]
Continue Reading

→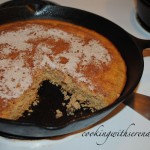 PENNSYLVANIA DUTCH CRUMB CAKE
2 cups all purpose flour
1 cup sugar
1 tsp cinnamon
1/2 tsp nutmeg
1/4 tsp cloves
1/4 tsp salt
1/2 cup shortening
'1 egg
2 Tbsp Molasses
1 cup buttermilk
1 tsp soda
1/2 cup minced nuts and raisins
Method:
Mix sugar and spices [...]
Continue Reading

→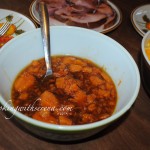 CANDIED YAM'S (SWEET POTATOES)
I always go a little confused about what the difference between Yams and Sweet Potatoes were.. I always heard them called the same thing.. Well I did a little research on them and this is what I found on the internet at huffingtonpost.com ..
Canned Yams [...]
Continue Reading

→
On
September 29, 2014
By
serena

RECIPE SUBMITTED BY Mary Beth Deary here is the the cream pie filling my Moma used for her banana pudding,and her coconut cream pie.
3/4 cup sugar
2/3 cup flour
1/8 teaspoon salt
2 eggs, well beaten
2cups milk (scalded)
1teaspoon vanilla
2 tablespoons [...]
Continue Reading

→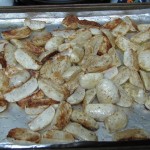 On
September 23, 2014
By
serena

PHOTO SUBMITTED BY  Alexandra Lim‎
This was the roasted white radishes that was suggested by Lillian Dunford Bowen – salt, pepper & olive oil – the result was so sweet and yummy
cut them into wedges about 6 each and roasted at [...]
Continue Reading

→