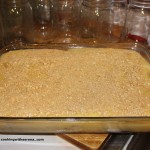 LEFTOVER ANIMAL CRACKERS ? MAKE BANANA PUDDING!!
So do you ever find yourself stuck with a bunch of animal crackers that you don't know what to do with? Well I did..
they are too good to throw out, but somehow you just get sick of them… am I right?
[...]
Continue Reading

→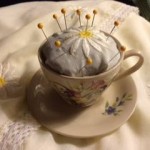 don't throw away those pretty scraps.. Make a dainty little teacup pin cushion- great inexpensive gift for Mothers day too if you have a sunday school class
I like this piece but it is a little thin
so I am using another thicker scrap piece underneath and just [...]
Continue Reading

→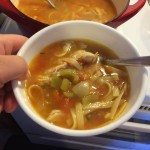 HEALTHY – FAST – AND EASY!!!!
HOMEMADE CHICKEN NOODLE SOUP made in Electric Pressure Cooker
So I always make my Grandpa Tony Farruggia's homemade chicken soup, stock and all , it takes a long time, I make it in a big stock pot  using a whole chicken and you debone, [...]
Continue Reading

→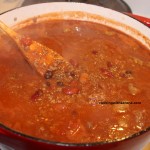 HOW TO MAKE TWO DIFFERENT MEALS OUT OF SAME POT OF INGREDIENTS
This is good for when your making things  ahead to freeze for grab and fix freezer meals also.
So it's pretty easy..The first day you can have a beautiful bean soup, and before you refrigerate it make it [...]
Continue Reading

→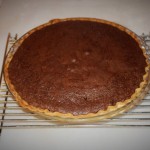 RECIPE AND PHOTO SUBMITTED BY Andy Blackstock
I don't have a fancy name for this pie even though it took 2ed place at the Carroll county Frontier day fair last year so I just Call it "Plain Ole Chocolate Pie" but I must say it's mighty dang tasty and very easy [...]
Continue Reading

→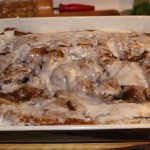 CINABUN CAKE
Preheat oven to 350F.
3 cups all purpose flour
1/4 teaspoon salt 1 tsp cinnamon 1/3 cup brown sugar 1 cup sugar
4 teaspoons baking powder
Mix all dry ingredients together
add in milk, eggs and vanilla
1 1/2 cups buttermilk 2 eggs
[...]
Continue Reading

→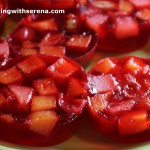 SERENA'S EASY PEASY -INDIVIDUAL JELL-O FRUIT CUPS
great to make for sick little kids…
Get a muffin pan ready by spraying very lightly with bakers joy in each cup
Open one can of very cherry fruit – or any of your choice
spoon some [...]
Continue Reading

→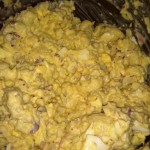 RECIPE AND PHOTOS SUBMITTED BY Amy Blair Cauliflower not Potato Salad 1 head of Cauliflower take green off bottom set in small amount of water bring to boil cover than 10 minutes at a boil take out turn upside down to get any water out Pick with fork [...]
Continue Reading

→

RECIPE SUBMITTED BY Chris Stock
I have a wonderful  recipe for bigger kohlrabi – peel them, keep the leafs for future soups.
Boil the entire kohlrabi root for 20 minutes until it is soft, but not too soft. Cut in two even half's and hollow out. Mix The inner [...]
Continue Reading

→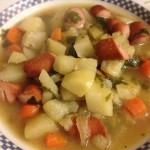 RECIPE AND PHOTO SUBMITTED BY Chris Stock
Made my grandmothers soup: Oma Schreiter's Kohlrabi Soup
8 small young Kohlrabi roots with leafs
2 medium potatoes
2 carrots
1 onion
3 cloves garlic
1 bag Cocktail sausages
2 cubes beef broth
2 [...]
Continue Reading

→