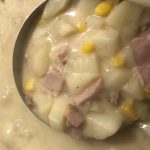 POTATO  CHEESE AND HAM CORN CHOWDER
1 1/4 sticks butter
1 small onion, minced small
3 cloves garlic, minced small
1 large carrot, diced small
tbsp chopped chives (optional)
1 stalk celery, diced small
1/2 teaspoon thyme, chopped
1/4 cup self rising  flour
[…]
Continue Reading

→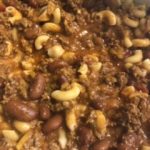 Homemade Chili can be kicked up a notch if you turn it into chili Mac..
Boil some macaroni noodles and drain add salt pepper a little butter and heavy Parmesan cheese while hot , toss, add some shredded cheddar cheese, toss, a
Ladle some hot homemade chili over top your macaroni […]
Continue Reading

→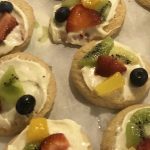 MINI INDIVIDUAL SIZE FRUIT PIZZA BITES
When I make a large Fruit Pizza I definitely make it homemade from scratch  because its delicious and easy but I just want to say for this particular recipe semi-homemade is fine too..  you can definitely use my recipe for the individual […]
Continue Reading

→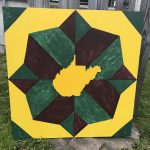 A Barn Quilt most often is made to hang outdoors on a barn but many have been seen both large and small, indoors and outdoors of homes, businesses, garages and sheds as well as even on fences or hand painted on water towers. They are bright, decorative usually with geometric patterns. Some […]
Continue Reading

→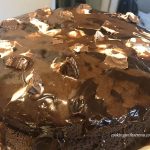 This Chocolate Candy Bar Fudge Cake is easy and delish!
You can use my Dark Chocolate Cake recipe below for the Cake or you can buy a Devils Food Cake Mix – No worries I do both.. its just according to how I am feeling 

LETTUCE WITH SESAME SEED DRESSING 
1/2 cup Sesame seeds
1 Tablespoon Butter
1/4 cup parmesan cheese
1 cup sour cream
1/2 cup mayonnaise
1 Tbspoon Red Apple Cider Vinegar or can use Tarragon Vinegar
1 or 2 Tablespoons of sugar
1 teaspoon of salt
pepper
1 clove of garlic minced
1/4 cup […]
Continue Reading

→

ICE CREAM OREO PIE
36 Oreo Cookies
1/2 cup melted butter
(or can just buy chocolate pie shell)
1/2 gallon chocolate chip ice cream or just plain chocolate
1 cup thick fudge sauce
whipped cream (optional)
Caramel Sauce (optional)
Crush cookies in blender. Mix with melted butter. Press into pie plate. Freeze […]
Continue Reading

→

LITTLE BUTTERCUPS
2 1/2 cups flour
1 cup sugar
1 Tablespoon Baking Powder
1 teaspoon salt
1/2 cup vegetable shortening
3/4 cup milk
1/4 cup Orange juice
1 tsp vanilla
2 eggs
ICING
1 box confectioners sugar
1 stick softened butter
1 Tbsp rum flavoring
2 Tbsp light cream
TOPPING
[…]
Continue Reading

→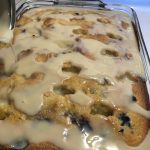 EXTRA MOIST LEMON BLUEBERRY PUDDING CAKE 
2 sticks of butter (softened a bit)
2 1/2 cups sugar
4 eggs
lemon zest
3 cups all purpose flour
1/2 tsp baking powder
1 tsp salt
3/4 cup lemon juice
1 cup buttermilk
1 tbsp real vanilla
1 large box instant […]
Continue Reading

→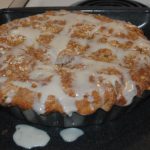 CINNAMON ROLL SWIRL CAKE
BATTER:
3 cup flour
1/4 tsp salt
1 cup sugar
4 tsp baking powder
1 1/2 cup milk
2 eggs
2 tsp vanilla
1/2 cup butter, melted
Topping:
1 cup butter, soft to the […]
Continue Reading

→
November 2021
M
T
W
T
F
S
S
« Oct
1
2
3
4
5
6
7
8
9
10
11
12
13
14
15
16
17
18
19
20
21
22
23
24
25
26
27
28
29
30