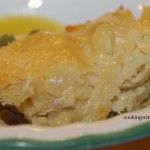 EASY CHICKEN AND GRAVY CASSEROLE
this recipe is for a 9×13 family size casserole
Ingredients
about 3 chicken breasts cooked tender (tip I pressure cook my frozen chicken breasts with water and a chicken bullion cube salt and pepper for 15 minutes and they [...]
Continue Reading

→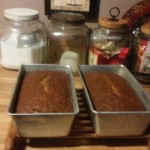 RECIPE AND PHOTO SUBMITTED BY Mary Beth Deary
Every time I make Banana Bread I think of my sweet Momma. Miss her so much.
Virgie's Banana Bread
Makes 2 loaves or 1 bunt pan
3 cups sugar
2 sticks oleo ( margarine)
[...]
Continue Reading

→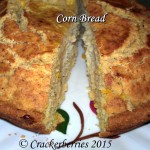 RECIPE & PHOTO SUBMITTED TO TRIED AND TRUE RECIPES BY Crackerberries Anderson
* So it might not actually be classic, but my hubby doesn't really care for cornbread because it's always dry and crumbly. I love it. I thought I'd see what I could do to make it not so [...]
Continue Reading

→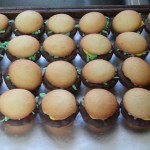 Photo and recipe idea submitted by Alexandra Lim
hamburger cookies
Made with vanilla wafers, grasshopper cookies, green colored coconut, red and yellow decorating icing
Continue Reading

→

RECIPE & PHOTOS SUBMITTED BY Patricia Stover
CAVATINI
Brown in a Dutch oven pan:
1 lb. ground chuck
¾ C chopped onions
2 Tbsp oil.
ADD:
1 lb. canned tomatoes (chopped or put through blender)
2 6oz. cans Italian tomato paste
2 C water
[...]
Continue Reading

→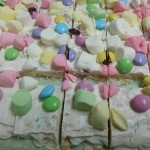 RECIPE AND PHOTOS SUBMITTED BY Alexandra Lim
White chocolate marshmallow bark with rice crispies
1 pkg. white chocolate chips melted with 2 tbsp. oil,
stir in 2 cups rice crispies and smooth onto parchment lined sheet,
refrigerate or freeze for 5 mins.
Melt 1 pkg. [...]
Continue Reading

→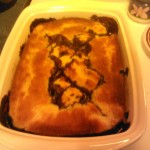 RECIPE AND PHOTO SUBMITTED BY Lillian Dunford Bowen
fast fresh blueberry cobbler
1 stick of butter melted in your pan in the oven
take it out mix up 1 cup sugar ,1 cup of flour and 1 cup of milk
once mixed pour all of this over your [...]
Continue Reading

→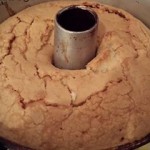 RECIPE AND PHOTOS SUBMITTED BY Veronica Hutchinson McBee

CRISCO POUND CAKE 1 cup of crisco, 2 cups of sugar 6 eggs 2 cups of plain flour 2 teaspoons of any kind of flavoring …..cream crisco and sugar and then add one egg at a time [...]
Continue Reading

→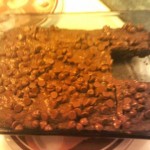 RECIPE AND PHOTOS SUBMITTED BY Lillian Dunford Bowen
melt 1 stick butter in a bowl
large box Dark cholate brownie mix,
1 small box Instant cholate pudding mix
1 tsp.vanilla
dash salt
1 cup cup cholate chips
2 eggs well beaten
1/4 cup [...]
Continue Reading

→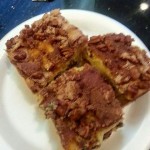 Photo Submitted By Veronica Sanders My sister in law brought this home from her Easter weekend in the northern part of Mississippi. She was told it was called a dream cake. It was like a coffee cake with a layer of brown sugar and pecan in the middle and topped [...]
Continue Reading

→