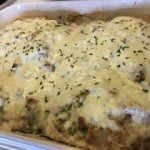 BROCCOLI STUFFED CHICKEN BREASTS WITH PENNE & ALFREDO
1 pkg Stove Top Stuffing chicken flavored
1 cup water
Family pack -boneless skinless Chicken breast
Broccoli florets (chopped in large pieces)
1/2 cup Large curd cottage cheese
1 cup milk
1 tsp paprika
grated [...]
Continue Reading

→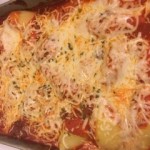 SICILIAN 4 CHEESE STUFFED JUMBO SHELLS AND SAUCE
3 -4 cloves minced garlic
1-2 lbs ground chuck
1/2 small Onion chopped fine
Parsley
Salt Pepper to taste (while browning meat and later in sauce)
Grated parmesan Cheese
little bit of oil [...]
Continue Reading

→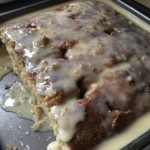 YUMMY BANANA BREAKFAST CAKE
4 cups all purpose flour
1 tsp baking powder
1 tsp baking soda
1 tsp salt
1 tsp cinnamon
1 cup butter (2 stick)
2 1/2 cup sugar
4 large eggs
4-5 bananas mashed
chopped nuts (pecans )optional
[...]
Continue Reading

→

Layered Bacon & Cheese Bean Dip
Pkg hot Italian Pork sausage (cut off casing)
Brown sausage into smaller chunks
Season with salt and pepper
Drain
Open cans of brand toy have on hand, pork an beans baby beans whatever, and drain
Put into food processor and [...]
Continue Reading

→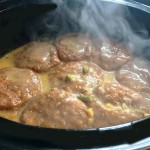 On
December 23, 2019
By
serena

LARGE CROCK POT – UPSIDE DOWN CHICKEN POT PIE
Two cans Marie Callender's Chicken Pot Pie Style Soup
about 7 or more  pieces of boneless skinless chicken thighs
[...]
Continue Reading

→
On
December 11, 2019
By
serena

Rotisserie Chicken And Corn Soup with Orecchiette
Although Orecchiette Noodles are not meant for soup, as they don't hold up, I have added some to this dish.. they are soft almost like dumplings that melt in your mouth but you still get a nice bite from the sweet yellow corn.
[...]
Continue Reading

→
On
November 26, 2019
By
serena

BROCCOLI SLAW CONVERSATION Well some of you may even call it Broccoli Salad..their seem to be many versions and opinions on the dish.. I first tasted this dish at our Pastors Appreciation Dinner.. I fell in love with it. Although its not really something spectacular to look at, you may even dismiss [...]
Continue Reading

→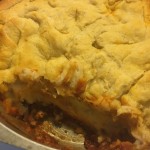 Sloppy Joe Style Shepherds Pie
Today's supper was sooo good and of course cheap for us as I didn't plan it, I just used leftovers and whatever I had on hand
I had some leftover Sloppy Joe (Delmonte Brand) so I decided to use it to make a Sloppy [...]
Continue Reading

→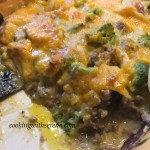 CHEESY SCALLOPED POTATO CASSEROLE
This is a cheap and easy "Semi Homemade" dish that will be gone in a flash!
You get everything in one yummy convenient dish for those days when you don't feel like doing a lot but you still want something filling for the tummy. In [...]
Continue Reading

→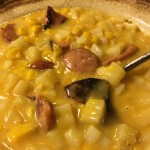 Cheesy Kielbasa Hash

Ingredients
Cheddar Cheese
2 cups Chicken Broth
2 regular cans Cream Of Chicken Soup
1 2lb bag Frozen Southern Hash Browns
Salt
Pepper
Smoked Sausage , Kielbasa, Regular and or Cajun (your choice- a mixture is [...]
Continue Reading

→
Calendar

April 2020
M
T
W
T
F
S
S
« Mar
1
2
3
4
5
6
7
8
9
10
11
12
13
14
15
16
17
18
19
20
21
22
23
24
25
26
27
28
29
30

Meta