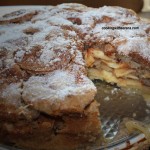 8-11 Granny Smith apples mixed with some Golden Delicious Apples, peeled and sliced (according to size of apples mine were smaller)
cinnamon- sugar
3 eggs
1 1/2 cups white sugar
1 1/2 cups vegetable oil
[...]
Continue Reading

→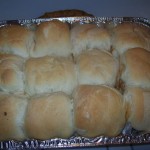 RECIPE  AND PHOTO SUBMITTED BY Patricia Stover
PATRICIA'S EASY PEPPERONI ROLLS
I made 2 dozen of Pepperoni Rolls yesterday. They freeze great so it's nice to reach in the freezer for a quick snack and heated in the microwave.
I make them using frozen [...]
Continue Reading

→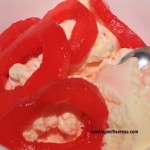 RED HOT – CANNED CUCUMBER RINGS AKA – CHRISTMAS CUKES 4 quarts =1 gallon
2 gal oversized whole cucumbers 2 c pickling lime 9 qt water 1 c white vinegar Christmas Red Food Coloring 1 Tbsp alum 8 stick cinnamon 8 c water 10 c sugar (use a whole 5 lb bag [...]
Continue Reading

→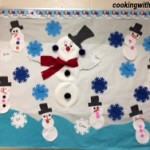 PAPER PLATE SNOW MAN – WINTER SCENE
Let it Snow~ Let it Snow ~ Let it Snow
Well this board is a must if you live where we live.. here in West Virginia we get LOTS of snow..
and the kids LOVE IT!!!
So this was really easy . We [...]
Continue Reading

→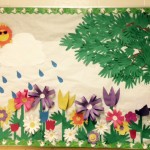 SPRING SHOWERS BRING FLOWERS BULLETIN BOARD
use a white background
paint a tree tree on the side with some branches coming out
next take A LOT of cut outs of hand prints and use for leaves
the clouds I made by cutting out my clouds then mixing Elmer's Glue with [...]
Continue Reading

→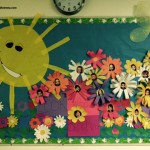 LOOK WHO'S BLOOMING IN PRE-K Spring Bulletin Board
my friend Kristen did this one.. I just made flowers and put photos in the center from our class.
Kristen drew the face on the sun and painted it in.. and then cut strips of paper and attached for the sun rays. [...]
Continue Reading

→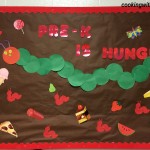 HUNGRY CATERPILLAR BULLETIN BOARD
This one was also very easy, fast and most importantly CHEAP.
Every teacher in Pre K through third grade knows about the Hungry Caterpillar Book.
So it was really easy to look online for clip art  to print off some things like the cake pictured in [...]
Continue Reading

→

OWL BULLETIN BOARD
for eyes we used coffee filters, cotton balls and black construction paper.
free hand cut out of owl and wings
Tree is made by scrunching up the bulletin board paper and shaping into tree, staple on some greenery here and there
I purchased the mini chalk board [...]
Continue Reading

→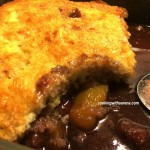 STRAWBERRY PEACH COBBLER
I took some frozen strawberries out of the freezer and didn't even thaw them.. just stuck them in my pot. Turned on the heat and let them start to thaw in the pot.. then I added about a half a cup or more of white [...]
Continue Reading

→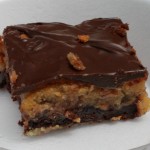 This recipe my mother in law got from a Facebook post and made and brought to the family picnic was delicious and very rich.. you will love it. CHOCOLATE PEANUT BUTTER OOEY GOOEY BUTTER CAKE INGREDIENTS Cake 1 German Chocolate or Devils Food  Cake Mix
½ cup butter – [...]
Continue Reading

→