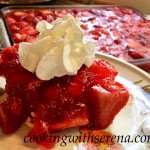 Strawberry Jello Pie
9×13
Have 2 -3 pounds of strawberries hulled washes and sliced into thick meaty chunks, sprinkle a little sugar over wet berries and toss with fingers
Set aside
Ingredients for [...]
Continue Reading

→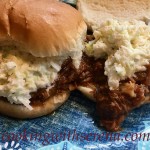 So I made mom's BBQ Recipe last night for an easy Sunday Dinner today. It turned out great. Hot Lazy Days are PERFECT for this! You will need to plan ahead though. Get it going the night before, and if you have a large crowd you need to plan accordingly by making [...]
Continue Reading

→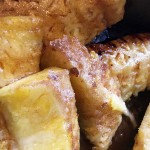 GRILLED BRAZILLIAN SUGAR CRUSTED PINEAPPLE
Cut off outer skins of pineapples
have a bowl with a mixture of white sugar, brown sugar and a little cinnamon mixed together
I didn't have any of the heavy duty long grilling skewers so I [...]
Continue Reading

→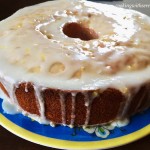 LEMONY LEMON BUNDT CAKE WITH FRESH LEMON GLAZE
Ingredients 2 sticks Softened Butter or Margarine
1 1/2 Cups Sugar
8 Egg Yolks
2 1/2 Cups Flour
3 Heaping Teaspoons Baking Powder
1/4 Teaspoon Salt
3/4 Cup Milk
Continue Reading →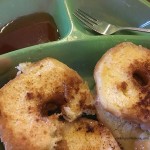 FRIED BREAKFAST DONUTS
FROM STALE TO SWELL
If your glazed donuts are starting to lose their soft fresh taste, it's time for a fried donut for breakfast .. simply grab a cast iron skillet, some real butter, slice your donut in half and [...]
Continue Reading

→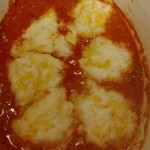 RECIPE AND PHOTOS SUBMITTED BY Raquel Burson-Silies
Old fashioned cheddar tomato dumplings.
Saute 2 tablespoons finely chopped onion, 1 tablespoon finely chopped green pepper [...]
Continue Reading

→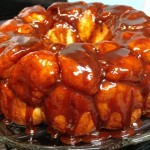 RECIPE AND PHOTO SUBMITTED BY Raquel Burson-Silies
BUTTERSCOTCH MONKEY BREAD
20 Rhodes frozen rolls.
Let raise about an hour, covered.
Grease a Bundt pan. Melt a stick of butter and add 1 package Cook and Serve Butterscotch pudding mix (dry) and [...]
Continue Reading

→

PIG SOUP
I Make this with my instant pot or my big pressure cooker but you can use a regular cast iron pot with lid as well it just will take a LOT longer and let's face it we ladies are busy nowadays with jobs other than home.
This soup [...]
Continue Reading

→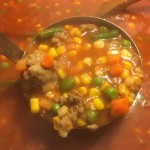 VEGETABLE BEEF SOUP

Parsley flakes
Garlic powder
Crushed red pepper flakes
Bay leaf
Parmesan cheese
Pepper
Salt
Frozen corn
Frozen veg (corn, green beans, peas, carrots)
1 large onion chopped
2 garlic cloves minced
64 oz V-8 [...]
Continue Reading

→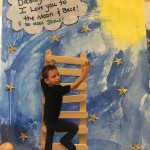 On
February 25, 2019
By
serena

Great for Fathers Day or Mothers Day.. I LOVE YOU TO THE MOON AND BACK
This is a TWO SUNDAY CRAFT
Best of all THIS GIFT the child gets to actually do some cool stuff…
First I take their photo and tell them to put one leg up and pretend to [...]
Continue Reading

→