RECIPE SUBMITTED BY Sandy Allen Sizemore 1/3 CUP SOFT BUTTER or MARGARINE -1 1/2 CUP GRANULATED SUGAR -1/3 CUP PEANUT BUTTER –3 EGGS– 1 CUP SWEET MILK– 1tsp. VANILLA– 2 1/4 CUP PLAIN FLOUR- -3tsp. BAKING POWDER AND 1tsp. SALT. Mix margarine and peanut butter then add eggs. Add other [...]
Continue Reading

→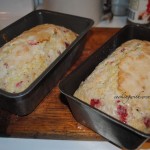 Strawberry Squash Sweet Bread
recipe inspired by Brianna Hubbards Yellow Squash Muffin Recipe
to see her muffin recipe click here http://cookingwithserena.com/?p=1091445

Directions
2 cups cooked, seeded, shredded yellow squash
cook in one cup of water in sauce pan
Continue Reading

→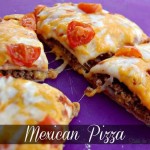 RECIPE & PHOTO SUBMITTED BY Julie Morgan
MEXICAN PIZZA
Ingredients:
Approx 1/2 lb ground beef or ground turkey
1/2 TBSP taco seasoning
1/4-1/2 cup re fried beans
1/4-1/2 cup salsa ( jarred or homemade)
1/4-1/2 cup shredded cheddar cheese (or your desired flavor)
[...]
Continue Reading

→

RECIPE SUBMITTED BY Pat Ward Creegan
LEMON BLUEBERRY BREAD
1/3 cup melted butter
1 cup sugar
4 T lemon juice
2 eggs
1 1/2 cups all-purpose flour
1 t baking powder
1 t salt
1/2 cup milk
2 T grated lemon [...]
Continue Reading

→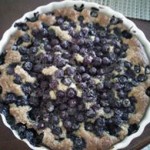 RECIPE AND PHOTO  SUBMITTED BY Carol Vasbinder
CAROLE'S BLUEBERRY CAKE
I made a blueberry cake. It smells wonderful!
Lemon Blueberry Yogurt Cake
1 c all-purpose flour
1/2 tsp baking powder
1/2 tsp baking soda
1/4 tsp salt
2/3 c turbinado [...]
Continue Reading

→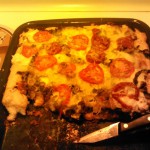 PHOTO SUBMITTED BY Lillian Dunford Bowen My home made deep dish pizza I have 3 kinds of cheese on it,I have everything on it,As soon as I took it out of the oven I took my Daughter and Son n law what u see that is gone. My Son n law [...]
Continue Reading

→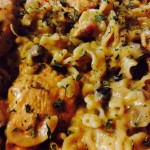 RECIPE AND PHOTOS SUBMITTED BY Rina Castillo Trochman
RINA'S Cajun Chicken spaghetti
Ingredients:
3lbs chicken breast
1 tablespoon Cajun seasoning
1/2 tablespoon garlic powder
1/2 tablespoon mrs. Dash table blend
1/2 tablespoon dehydrated onion
1/2 tablespoon parsley flakes
1 large onion chopped
Continue Reading →

RECIPE SUBMITTED BY Barbara O'Berry
SUN DROP CAKE
5 eggs.
1/2 c. shortening
3 c.sugar.
1 tsp vanilla
3 c.plain flour
1 tsp.lemon flavoring
2 stick margarine.
6 oz. Sun drop
Cream sugar, margarine and shortening.
Add flour, eggs and beat until blended.
Add flavorings. Add Sun drop last. [...]
Continue Reading

→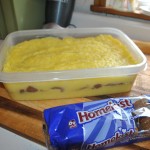 SERENA'S COCONUT CUSTARD SUPREME
MUST have everything ready to go before starting this recipe..
first make one batch of custard
in a cup have 2 heaping tbsp cornstarch and mix with a little bit of water to make a lump free liquid
in a mixing bowl have 12 egg [...]
Continue Reading

→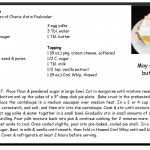 RECIPE AND PHOTO SUBMITTED BY Cherie Antin Fasbinder
Made this last night… it is a wonderful refreshing custard like pie that screams summer! Found this recipe last year when I had a big crop of cantaloup. Everyone always loves it!
Cantaloupe Cream Pie
Crust
1 cup of flour
3 [...]
Continue Reading

→