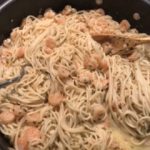 boil thin spaghetti or linguine noodles in salted water
You should have a large bag of Shrimp deveined and tail off
Normally for this dish you would use large Shrimp but I didn't have any on hand I just used what I had […]
Continue Reading

→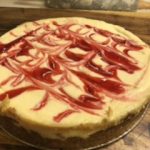 STRAWBERRY CHEESECAKE WITH GRAHAM CRACKER GRANOLA CRUST
Use two  sleeves of honey graham crackers
grind fine in food processor or pit in zip bag get air out and using a rolling pin bang away add in some sweetened granola and pulse (or bang […]
Continue Reading

→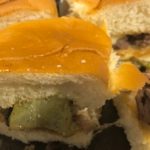 On
November 17, 2020
By
serena

STEAK & CHEESE SLIDERS
quick and easy
I just bought some Sweet Hawaiian
Sub Rolls and cut in half.
Then I laid them out on a cookie sheet, added some butter spread and mozzarella cheese slices.
popped them under broiler
And added thin, cooked and lightly peppered, steak
And […]
Continue Reading

→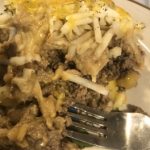 On
November 15, 2020
By
serena

HASH BROWN & GRAVY CASSEROLE 
Using a 9×13 Casserole Dish add about 4 handfuls is thawed hash browns to the bottom of dish.
Sprinkle a little pepper and salt
layer slices is Colby Monterey Jack cheese over top
cut […]
Continue Reading

→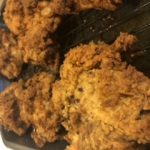 On
November 14, 2020
By
serena

I never get tired of chicken. I like to make it all different ways.
enjoy this less stressful way of making fried chicken on a day when you have more to do than stand over a hot fryer
this frees up 40 […]
Continue Reading

→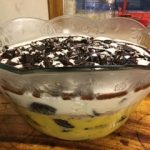 OREO BANANA PUDDING
First make Grandma's Old Time Homemade Custard
custard:
In Tall Kettle Put
3-4 cups milk, 1stick of butter.
In another bowl put 2 c sugar 8-10 eggs Separated.
Use ONLY yellow of egg with sugar mixture.
[…]
Continue Reading

→

BEAR BBQ using Canned Bear and 1 pkg Boneless  Beef Ribs
Place on low in crock pot 1 family pack of boneless Beef Ribs ..
add a little pepper a little salt a little McCormick BBQ rub and two tablespoons of garlic herb butter add a tiny bit of […]
Continue Reading

→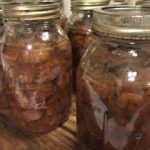 CANNED WV BLACK BEAR MEAT
Take 7 clean, hot quart sized mason jars, and pack with cubed chunks of Bear meat , pack tightly in the jars leave 1 inch head space. Add 1 Beef boulion cube to each jar.
if desire may add 2 Tbsp Worcestershire Sauce
ADD NO […]
Continue Reading

→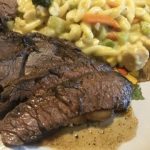 On
September 30, 2020
By
serena

Paul's Smoked WV Black Bear Roast
Original and Spicy BBQ
He used two small bear roasts 2-3 lbs each
Marinated them both overnight in Lea and Perrins Worcestershire sauce in covered container.
Next day
For Original :
Rub all over and up sides of roast using simply –
[…]
Continue Reading

→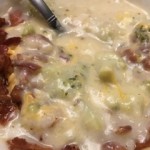 On
September 23, 2020
By
serena

HOMEMADE CROCKPOT POTATO CHEDDAR & BROCCOLI SOUP
Before and after pics 😂
I always make my homemade potato broccoli and cheese soup on the stovetop but this morning to save time when I got home, I used my crock pot to make my same homemade soup
Turned out great!
It […]
Continue Reading

→