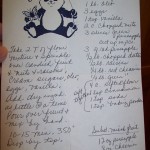 RECIPE SUBMITTED BY PATRICIA STOVER from her personal Christmas Recipe Collection
Note from Patricia This is another great Christmas cookie. It makes a LOT and you can make however many you want and put the dough back in the fridge to make later.

[...]
Continue Reading

→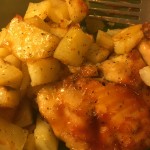 EASY ONE PAN BAKED FAMILY MEAL
BBQ CHICKEN AND SEASONED POTOATOES
Simply peal and wash some potatoes, preheat oven to 400
cut potatoes into small even wedges or chunks makes sure they are about the same size for even cooking ..
toss in olive or veg oil and season with salt pepper, [...]
Continue Reading

→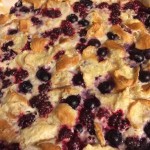 On
November 28, 2018
By
serena

RECIPE AND PHOTO SUBMITTED BY VICTORIA MORGAN who found recipe on https://bellyfull.net/2013/06/03/blueberry-and-raspberry-croissant-puff/?fbclid=IwAR3EX9Hf9-iqD3ENAKJp9e2aVHA1pmUXIxB6YomICqdZZyeGAw4WOatBd7I BLUEBERRY – RASPBERRY CROISSANT PUFF Ingredients 4 large croissants ,cut up into pieces (about 6 full cups)
1/2 cup fresh or frozen blueberries
1/2 cup fresh or frozen raspberries
8 ounces cream cheese ,softened
2/3 cup granulated sugar
2 large eggs
1 teaspoon vanilla
3/4 cup whole milk [...]
Continue Reading

→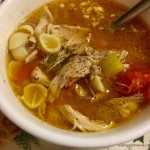 On
November 26, 2018
By
serena

Pressure Cooked Chicken Soup
So I needed my homemade chicken soup done a little quicker than the usual long slow boil to take to Mom and Dad so I used my pressure canner which is just basically a huge pressure cooker.
It worked out great ..
[...]
Continue Reading

→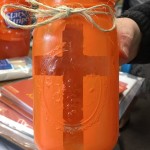 On
November 24, 2018
By
serena

THANKSGIVING BLESSINGS JAR CANDLE
Super Cute Fall Decoration Gifts my Sister in Law made these  with the Kids at Sunday School for Thanksgiving.
Orange Paint
Tea Light
Mason Jar (wide mouth)
Tape
Just tape your cross on a [...]
Continue Reading

→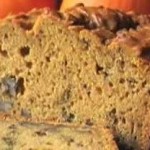 RECIPE and PHOTO SUBMITTED BY DEBRA JOHNSON
Probably my all time favorite pumpkin bread recipe – found it years ago on Allrecipes.com
Downeast Maine Pumpkin Bread
Better as it sits,  so plan to make it a day ahead if possible.
[...]
Continue Reading

→

THE BEST GINGER SNAPS
Recipe Submitted by Nancy Cook
Ok guys so I renamed this Ginger Snap to THE BEST Ginger Snaps because they simply ARE the best I have ever had, and trust me I have had a lot of Ginger Snaps through the years. .. My boss the Principal at [...]
Continue Reading

→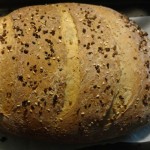 RECIPE AND PHOTO SUBMITTED TO TRIED AND TRUE RECIPES ON FB BY Raquel Burson-Silies 7 grain bread with everything bagel topping 1/2 cup unsweetened multi-grain cereal (such as 7-grain)
2 cups boiling water
1 envelope dry yeast
4 1/3 cups (about) bread [...]
Continue Reading

→

EASY CHICKEN SOUP -SEMI HOMEMADE
Ever in a hurry or you just feel bad but you want some good chicken soup in a hurry?
Bring you home a whole rotisserie chicken,
And in a larger sized pot add a had of an onion diced, and some diced carrots [...]
Continue Reading

→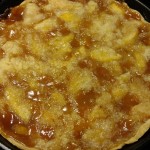 On
September 16, 2018
By
serena

RECIPE AND PHOTO SUBMITTED BY Raquel Burson
RAQUEL'S CAST IRON DEEP DISH PEACH PIE
Pie crust, put in a 10 inch cast iron skillet. I had four softball size peaches. Peeled, slice and pit. To peaches add one and a [...]
Continue Reading

→
Calendar

February 2019
M
T
W
T
F
S
S
« Nov
1
2
3
4
5
6
7
8
9
10
11
12
13
14
15
16
17
18
19
20
21
22
23
24
25
26
27
28

Meta