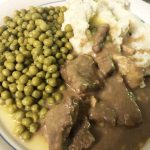 CROCK POT CUBED STEAK AND GRAVY
Get a family pack of Cubed Steak
cut meat into good size chunks and add to crock pot with 1 cup of chicken broth, black pepper, and about 2 tbsp of Worcestershire Sauce, and 3 beef bullion cubes
put lid on […]
Continue Reading

→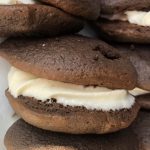 WHOOPIE PIES
below are two recipes.. The Amish recipe posted at the bottom uses raw egg whites in the marshmallow creme filling so if you do not want to use raw egg whites go with the first recipe posted called Whoopie Pies with Butter Creme Filling .. […]
Continue Reading

→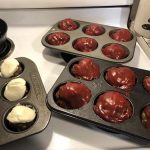 Individual Meat Loaf Cups
Easy to make  using a Large Cup Muffin Pan
I just used our basic recipe.
Ground chuck
eggs
saltine crackers
minced garlic
minced onion
chopped green pepper
bread slices torn to bits
Italian bread crumbs
salt
pepper
parmesan cheese
ketchup
mixcll ingredients above well
[…]
Continue Reading

→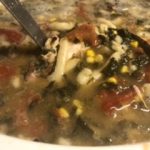 SPICY SPINACH CHICKEN SOUP
1 rotisserie chicken.
pull off skin and pull chicken from carcass add to crock pot or stock pot .. (today I'm doing it in a crock pot)
add two large cartons of chicken broth (about 4 cups
add about a cup of water
[…]
Continue Reading

→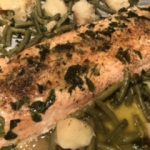 Ingredients
Whole Salmon Fillet
Olive Oil
1 Tbsp White Wine
3 Tbsp Chicken Broth
splash of Lemon Juice
1 whole stick of butter
[…]
Continue Reading

→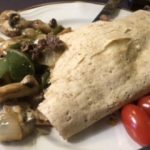 Low Carb Philly Cheese Steak Wrap
Ok guys so tonight while the boys enjoyed their Philly Cheesesteaks on Hoagie bread, I tried the St Joseph's lavish bread wrap in place of the hogie roll.
I didn't skimp, and used two slices  of the […]
Continue Reading

→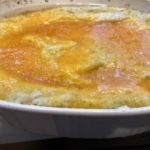 CHEESY RANCH MASHES POTATOES
Peel potatoes quarter and boil in salted water until tender  (use amount you need according to your serving needs)
drain off water once tender and mash with a stick of butter
add in Ranch Dips Seasoning
add in black […]
Continue Reading

→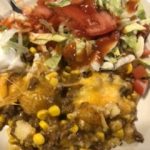 TATER TOT TACO CASSEROLE
preheat oven 400 degrees
brown 3 pounds of ground chuck
Add a little pepper, pinch salt, drain well return to stovetop and add in 1 ouch Taco seasoning and 3/4 cup water
Add 1 can drained corn
2 cans Campbell's Cheese Soup
[…]
Continue Reading

→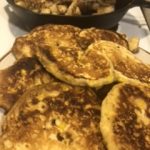 CORN CAKES
self rising flour
a tsp of sugar or more
two eggs
a can of corn drained
a pinch of salt
evaporated milk  to mix
Mix
May need to add more flour to get the right thickness
Fry in butter on cast iron […]
Continue Reading

→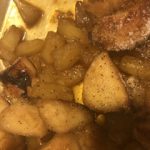 HAWAIIAN CHICKEN
4 pounds of chinked boneless skinless chicken
1 cup of brown sugar
1/3 cup soy sauce
1 20 oz can pineapple tie backs with juice
out in crock pot and let go on low all day while you go about your day
once chicken […]
Continue Reading

→