1 package moist lemon cake mix
1⁄2 cup  butter, melted
1 large egg
1(14 ounce) can sweetened condensed milk
1⁄2 cup lemon juice
Preheat oven to 350
Stir together cake mix, butter and egg. Spread mixture evenly into bottom of a 13×9-inch baking pan. Blend together sweetened condensed milk and lemon juice. Pour [...]
Continue Reading

→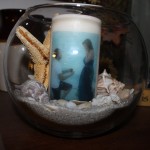 CANDLE CRAFT DIY
Great little Craft to give as gifts for different occasions. I have put Photos on for Funerals in leu of flowers, and put the candle in a nice vase or lantern box.
I have made them for gifts to friends and relatives wedding and [...]
Continue Reading

→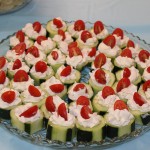 STUFFED CUCUMBER BITES
Ingredients:
Ranch Mix
Cream Cheese
Sour Cream
Cucumbers
Cherry tomatoes
I made a LOT of it, not just for my cucumbers but for extra veggie and chip dip.. so you may want to scale back a whole lot if you don't want a lot of it.
I [...]
Continue Reading

→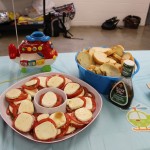 FRESH MOZZARELLA AND TOMATO CANAPE'S
These little Italian Appetizers are so very simple and delicious.
All you need is Fresh Tomatoes, Some good Mozzarella Cheese,  Balsamic Vinagret Dressing,  a loaf of sliced French or Italian Bread. and a little basil whole or shredded
Toast the bread slices (or [...]
Continue Reading

→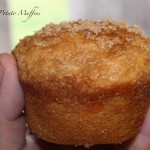 SWEET POTATO MUFFINS
1 1/2 cup sifted all purpose flour
2 1/2 tsp. baking powder
1/3 cup shortening
1 cup hot mashed sweet potatoes
2 eggs well beaten
1 cup white sugar
1 tsp salt
1 tsp cinnamon
1/2 tsp nutmeg
1/2 cup buttermilk
Directions
I use my [...]
Continue Reading

→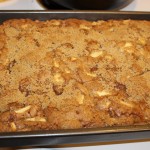 SERENA'S APPLE PIE CAKE
2 1/2 c. all purpose flour
1 tsp Allspice
1 tsp Cloves
1 Tbsp Cinnamon
1 tsp Soda
1 tsp Salt
2 c Sugar
1 c Oil
3 Egg
4 1/2 – 5  cups thinly sliced peeled [...]
Continue Reading

→

OATMEAL CHOCOLATE CAKE
1 cup oatmeal
1/2 cup shortening
2 eggs
1 tsp vanilla
1 1/2 c boiling water
1 1/2 cup sugar
1 c sifted flour
1 tsp soda
1/2 tsp salt
Mix oatmeal with boiling water, let it stand until cool.
Cream shortening with sugar and eggs. Add oatmeal [...]
Continue Reading

→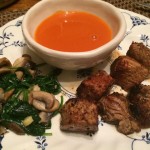 RECIPE AND PHOTOS SUBMITTED BY Deborah Cook Adkins
Easy kind of cheat meal since two items are prepped!! I cook them in cast iron. I sauté mushrooms and garlic first in butter then add spinach last. The pork loins is cook in olive oil and butter
Pork Loins- Tomato Bisque- Spinach, garlic [...]
Continue Reading

→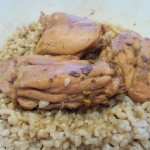 RECIPE AND PHOTOS SUBMITTED BY Mary Wamsley
ASIAN GARLIC GINGER SCALLION STEWED CHICKEN OVER RICE
Stew Chicken
12 bone chicken (cut slits)
1 cup gizzards (optional)
cooked rice (optional)
2 tablespoons vegetable oil
Water
Seasons:
1 head of [...]
Continue Reading

→

CREAMY PARMESAN EGG NOODLES
This is fast and easy.. no recipe really.
I just boil some Egg Noodles till tender, drain all but about a Tbsp of the starch water.
While hot add a Tbsp or 1/2 tbsp of butter (according to how many noodles you have, no need to [...]
Continue Reading

→