Brajole, or more accurately Braccioli, is the italian version of Rouladen. Basically a meat roll. They would take cheap cuts of steak beat it thin and roll it up around what they had on hand as times were hard, pine nut, scraps of bacon..if you had them, bread crumbs ect…. They are delicious eaten plain or smothered in red sauce.
Today we served them with sauce and without….with  Sicilian Celery Fritters, and Italian Green Beans with Almonds.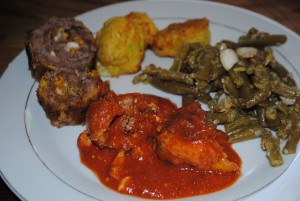 BASIC BRACCIOLI RECIPE
8 sprigs parsley, chopped (can use parsley flakes if desire)
2 cloves garlic, minced
1/2 cup dry bread crumbs (I use italian seasoned bread crumbs)
1-2 Tbsp Grated Parmesan Cheese
1 small onion or half of onion chopped fine
2 hard cooked eggs, diced
2 – 3 strips bacon diced
1 tsp salt
pinch pepper
pinch oregano
round steak or cubed steak pounded on both sides, if not tender recipe will not be enjoyable
1 egg beaten
2 Tbsp Flour
1/4 cup oil or more for frying
3/4 cup water
Spaghetti Sauce (optional)
boil your eggs first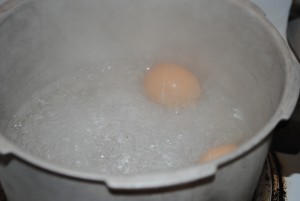 Place parsley, garlic, bread crumbs, cheese onion, hard cooked eggs, bacon salt, pepper, and oregano in a bowl . Mix thoroughly.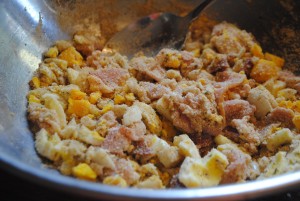 Lay the pounded steak flat on a table. Spread the ingredients on top of steak evenly.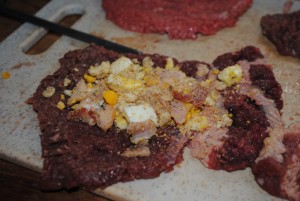 Fold edges in if possible.. and roll.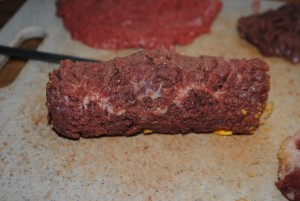 Tie securely with string.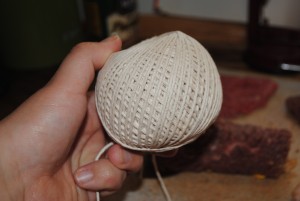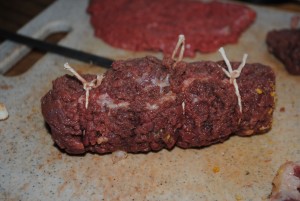 repeat process till all steak is rolled and tied, doesn't matter if they are different sizes as you will be slicing them later anyway.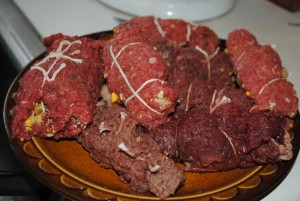 Dip rolled and tied steak in beaten egg. then in flour.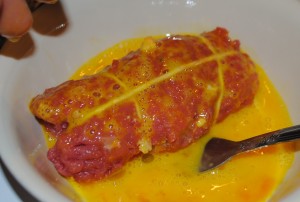 Heat oil in a skillet and preheat oven to 350 degrees add floured meat roll to pan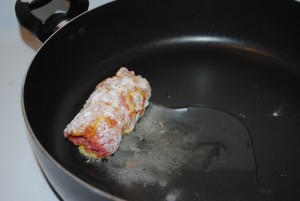 Saute steak on all sides till golden brown.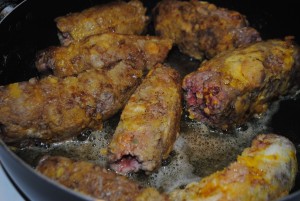 Place water in bottom of roasting pan, preheat oven to 350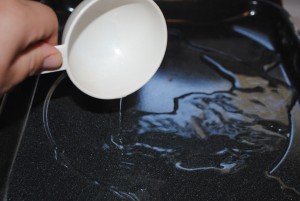 place browned meat rolls on top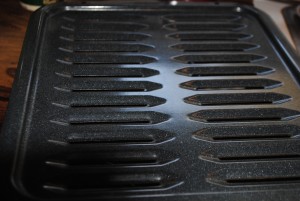 Roast at 350 degrees for 45 minutes.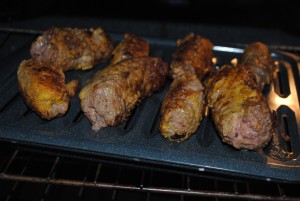 Cut into slices, make sure you get the twine, be careful as will be hot.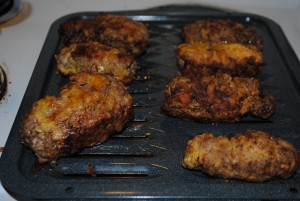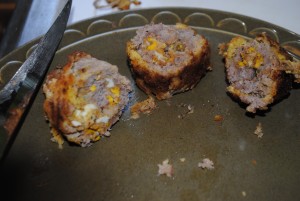 and serve as is or pour spaghetti sauce over the steak if desired.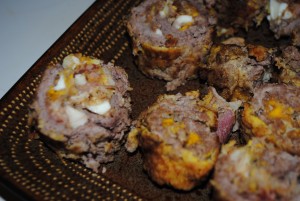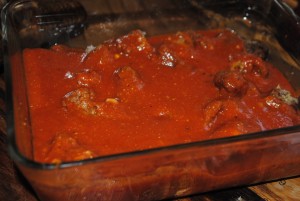 Basic Easy Spaghetti Sauce
1-2 cloves fresh garlic minced, saute in a small amount of oil just till smell is released.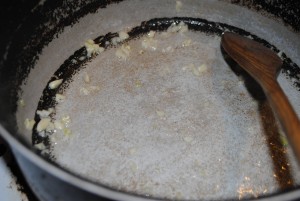 Add 1 can of Tomato Sauce, and fill up can half way with water.
Add 1 can of Tomato Paste fill up can TWICE with water adding to pot.. (Note : will seem watery at first but will simmer and thicken.. especially after cheese is added)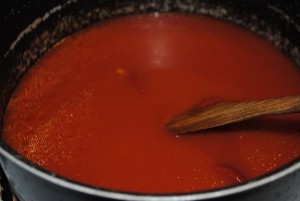 let come to a boil, then turn down heat to simmer, adding salt, pepper, pinch of oregano, tsp basil, shake of parsley flakes, and good amount of parmesan cheese.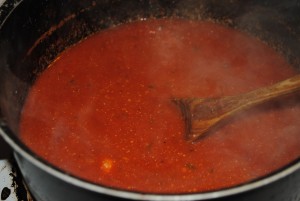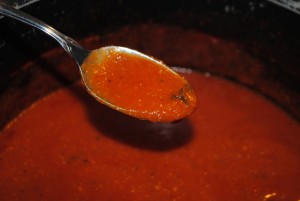 enjoy over your Braccioli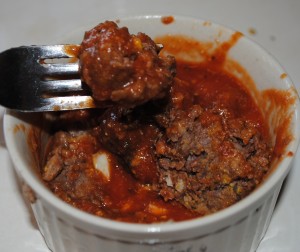 Calendar

December 2018
M
T
W
T
F
S
S
« Nov
1
2
3
4
5
6
7
8
9
10
11
12
13
14
15
16
17
18
19
20
21
22
23
24
25
26
27
28
29
30
31

Meta