I saw this on pinterest… a lady had mad a braided calzone (here is her link  http://www.squidoo.com/homemade-calzone ) and I thought it was very pretty and would be fun to do my own little version of her recipe..  so here is mine.. it turned out beautiful and was so terribly easy.. my husband and kids oooohed and ahhhed over it and I just got tickled at them cause it really was simple… you can do the same with a pie crust using cream cheese and strawberry jam and fruit making a braided danish.. I may try that one next week.
BRAIDED CALZONE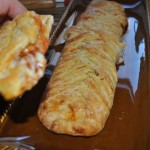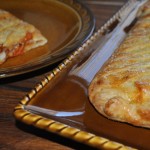 0k so to start out… all you need is pizza dough. any kind will do, homemade or even box or frozen I have used them all… (I have recipe for the best homemade dough on this site under pizza category )
Once your dough has raised you want to take it out and put on lightly floured surface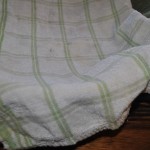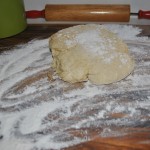 you will have enough for two so divide dough and roll out into smooth rectangle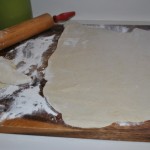 get it the best you can then trim edges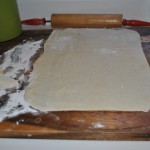 now just take ruler and measure about 3 1/2 to 4 inches on each side use ruler lengthwise to make indention for your stopping point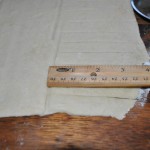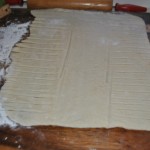 now place pepperoni up the middle followed by sauce and shredded parmesan cheese.. don't put TOO much sauce be careful. you don't want it all to ooze out while baking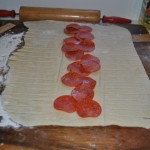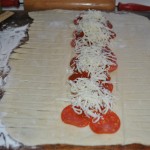 now I took two chucky cheese string cheeses and I pulled it apart into 3 pieces (2 sticks will yield you 6 pieces) I used them for boarder on the sides of my calzone. Not only do they taste great but they keep the sauce from oozing out as much during the baking process..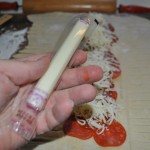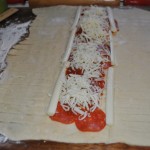 now I sprinkled some oregano and basil over top.. you could add some banana peppers ect.. if you wish but I am ready to start braiding..
start from one end and pull one side then the other back and forth.. do the other end and meet at the middle to finish it off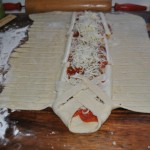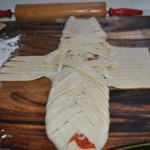 turn up edges lastly to keep the sauce in..
grease a large sheet and lightly sprinkle with yellow cornmeal.. also the oven should be preheated to 425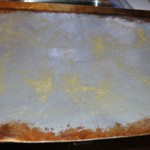 VERY CAREFULLY transfer your delicate braided calzone to the sheet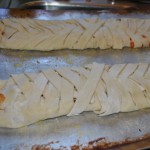 now take one yellow of an egg and add two tbsp of water and a bit of parsley flakes.. use fork to whip.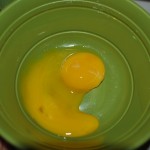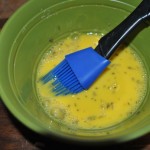 Brush onto your calzone and sprinkle with parmesan cheese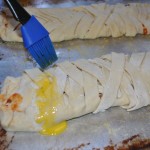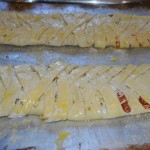 Bake till top is golden and bottom is crisp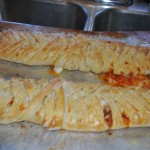 let cool a minute or two before transferring to serving dish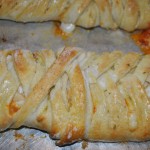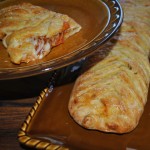 I really loved how they turned out..