RECIPE AND PHOTO SUBMITTED BY Alexandra Lim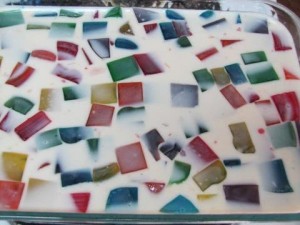 Rainbow Glass Jello for the Easter Party
6 x 3 oz. Jello gelatin (different flavors of your choice)
2 envelopes unflavored gelatin
1 can condensed milk

Mix 1 cup boiling water with 1 packet Jello and stir till dissolved. Spray a plastic food storage container with cooking spray. Pour dissolved jello into container. Repeat the other 5 flavors. Refrigerate 4 hours or overnight.
Cut up each color into cubes (or shape of your choice). Spray a 9×13 dish with cooking spray. Mix up the different colored cubes in the dish.
Dissolve 2 envelopes unflavored gelatin in 1/2 cup cold water and let sit for 4 minutes. Boil 1-1/2 cups water and stir into gelatin. Add 14 oz. condensed milk and stir till well mixed, cool to room temperature. Pour into 9×13 dish. Rearrange the colors if necessary to distribute and make sure none sticks out of the surface. Refrigerate till set or overnight. Cut into squares or use cookie cutters to cut into shapes.
COMMENTS ON TRIED AND TRUE RECIPES ON FACEBOOK
Lynn McGinnis Had a relative that used to make this, but she put all the other colors in a yellow jello that made it like you could see through
Calendar

December 2018
M
T
W
T
F
S
S
« Nov
1
2
3
4
5
6
7
8
9
10
11
12
13
14
15
16
17
18
19
20
21
22
23
24
25
26
27
28
29
30
31

Meta