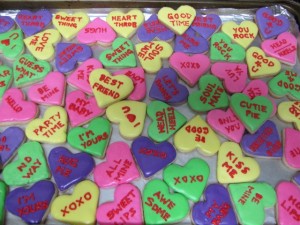 Conversation Hearts cookies anyone?
I used lemon royal icing, use any sugar cookie recipe, cut out the shapes, frost and write, it really is that simple, just rather time consuming
1/2 cup butter, 1 cup sugar, 3 cups flour, 1 egg, 1 tsp. flavoring of your choice, 1 tsp. salt. Cream butter and sugar till fluffy, add egg and flavoring. Add flour and salt. Bake 8-10 mins. at 350F.
If you want it to be soft like shortbread, do notcream butter and sugar, instead mix all ingredients in a bowl and cut in the butter, then add egg to bind to form into a dough. Refrigerate for 1 hr and cut into shapes.