TILDEN CAKE  (1890 Lemon Pound Cake Recipe)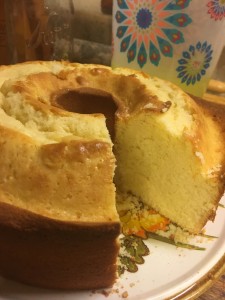 I got this recipe from a very old cookbook dated 1890. "Compendium of Cookery and Reliable Recipes"  My cookbook is so old the pages I have to be very careful with because they are so dry they are falling apart in pieces. It even has a fun section where it tells you how to make soap and things like how to clean your corset.. yes CORSET. =) haha  I tried this recipe simply because it was so simple and because it had an odd ingredient of corn starch.  The cake came out beautiful and smelled heavenly. The texture was so nice.. the outside had a sweet crust like most good pound cakes do and the inside was a lot softer than most pound cakes.  I am wondering if THAT was the reason for the cornstarch … I will study up on this.
TILDEN CAKE (printed exactly as in book)
One cup butter, two of pulverized sugar, one of sweet milk, three of flour,
half cup cornstarch, four eggs two teaspoons baking powder, two of lemon extract.
This is Exellent.
Recipe for those of you who need more instruction.
2 sticks butter, 2 cups white granulated sugar, 1 cup of regular milk, 3 cups all purpose flour, half cup cornstarch, 4 eggs, two tsp baking powder, 2 tsp lemon extract (I used three)
mix butter thoroughly, add in sugar gradually till mixed.  have milk ready and add in some flour slowly and gradually pour in your cup of milk little by little until all your flour is incorporated. Then add your baking powder and eggs, lemon extract and finally you add your cornstarch in. should be mixed well and smooth.. taste with fingertip to see if lemon is distributed nicely. Turn into a sprayed or buttered and floured tube pan.
Bake at 350 for 1 hour .. should be golden and tender.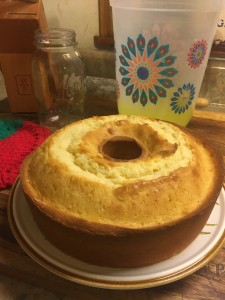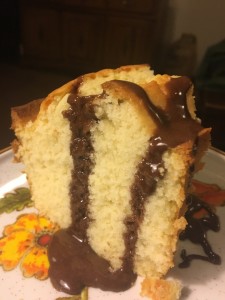 I had a little chocolate ganache with mine because I wasn't sure how it would turn out but the ganache was not needed.. it was delicious on its own. A very good cake. I would maybe have it with some strawberries and strawberry sauce in the summer.
definitely a keeper.. planning to try some more old recipes again soon..