RECIPE AND PHOTO SUBMITTED BY CHERIE ANTIN FASBINDER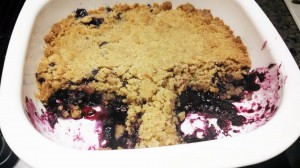 4 cups fresh blueberries
1 Tbsp. flour
1 1/2 cup flour
3/4 cup white sugar
1/4 cup brown sugar
3/4 ground cinnamon
3/4 cup mayonnaise
Preheat the oven to 350 and toss the blueberries with 1 tbsp flour.  Place into 8″square baking dish.
In a medium Bowl, stir together the 1 1/2 cups flour, sugars, and cinnamon.
Stir in the mayonnaise until the mixture resembles coarse crumbs.  Sprinkle over top of the berries. Bake 35-40 minutes until the top is lightly browned.

Calendar

April 2020
M
T
W
T
F
S
S
« Mar
1
2
3
4
5
6
7
8
9
10
11
12
13
14
15
16
17
18
19
20
21
22
23
24
25
26
27
28
29
30

Meta