SUMMER SCAMPI
(shrimp scampi with a twist)
first make your sauce (I find it quicker to use my food processor but not necessary)
about 5-6 cloves  peeled garlic (this dish is very garlicy) - put in processor with salt pepper Tbsp or so of Lemon Juice, tsp parsley flakes, tsp or less crushed red pepper flakes, 3 tbsp or so grated parmesan cheese.. put lid on and then add a little extra virgin olive oil to mix it.. pulse and done..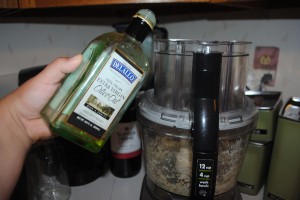 in bowl have cleaned deveined shrimp (I also take tails off mine)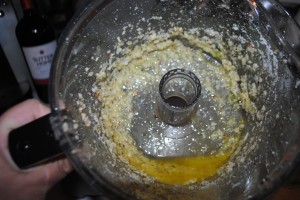 using rubber spatula scrape sauce out and onto shrimp..toss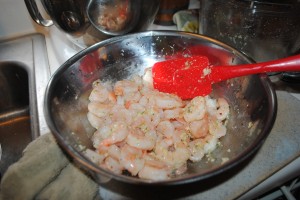 meanwhile put on some thin spaghetti to boil in salt water ( can use linguini or angel hair pasta if desire but I like the thin spaghetti with this)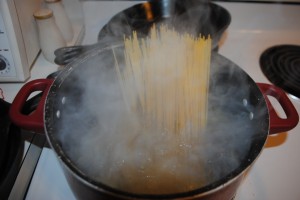 Now cut up some onion, a little yellow squash, a little zucchini salt and pepper well and either in a hot iron skillet or sauce pan.. or like I am using today a WOK, using a small amount of oil and some butter.. toss your veggies in the hot oil and hear it sizzle.. toss and steam to your desired "bite consistency"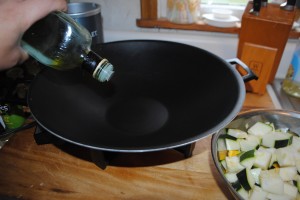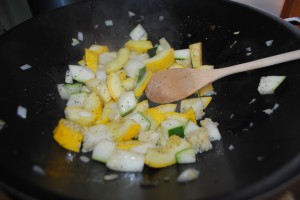 once your veggies are to the right cooking temp for you, add in your shrimp and sauce and toss ..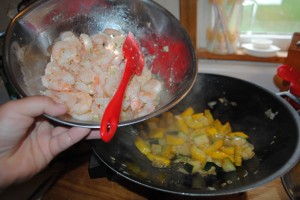 ( NOTE – you can  use pre cooked shrimp or raw uncooked shrimp.. if using uncooked shrimp you just cook till no longer pink.. over cooking results in rubbery shrimp.. if using precooked frozen shrimp, just cook until warmed through completely and your DONE.. again, overcooking will result in nasty rubbery shrimp.. )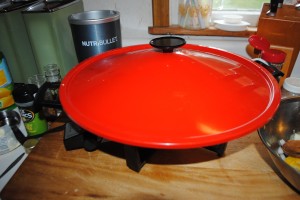 Add Butter the size of an egg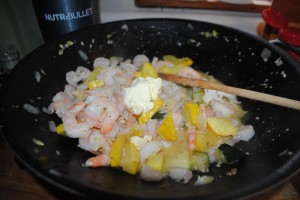 add Parmesan cheese generously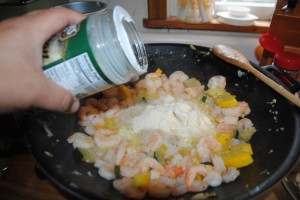 stir well..
Now take your pasta out of the water and put in serving dish.. add a tab or two of butter and lightly salt and pepper the noodles. Add some parmesan cheese lightly and toss the hot noodles till the  butter melts & pour our vegetable sauce over top of the noodles and toss..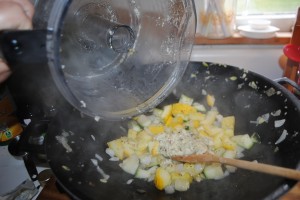 Serve immediately..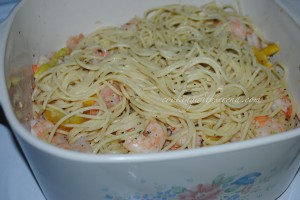 Now before I put my WOK up I decided to make a vegetable Alfredo sauce to go with it on the side.. was easy and delish.
I had some extra onion, zucchini and squash already cut up as well as some garlic minced. Now just  salt and pepper, then sauté the veggies in the WOK with butter .. add 3/4 cup parmesan cheese, 1/2 cup milk, and one cream cheese. Mix well until smooth, if too thick add a little more milk. Taste and pour into serving dish..serve with noodles or on the side immediately.