TED'S PESTO & PASTA WITH PEA POD, PORTABELLA, SHALLOT & GARLIC

Pesto & Pasta with Pea Pod, Portabella, Shallot & Garlic.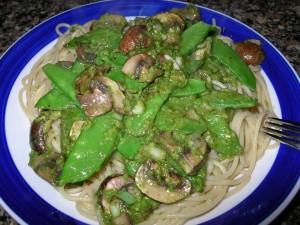 COMMENTS FROM TRID AND TRUE RECIPES
Felicia Lisa

I think I could eat this daily……….looks divine!

Ted Crawford

ty, it's quite simple to make. Saute the mushrooms & pea pods together 3-4 minutes, throw in the scallions & garlic for a minute, then add pesto to pan to heat up.. then slide it on top the pasta.

Felicia Lisa

MMmmm…. bring that a little closer! I'd love to have that for BREAKFAST… riiiiiiiiiiight now!

Felicia Lisa

Ted… are you sautéing in butter or olive oil? This just has to be GREAT! I can smell it in my mind!

Ted Crawford

I used virgin olive oil.. the pesto is also olive oil…didn't want to mix butter in. Plus the pan for saute was high heat for fast cooking. I did add a couple spoons of the pasta water initially about 1min in cooking mushrooms/pods, and reduced it down while adding scallions/garlic later. By the end of cooking, nearly no moisture left, added 3 table spoons of pesto to meld with the rest..

Felicia Lisa

I may have to hit the store on my way home tonight. I wish the screen here was scratch and sniff…lol Thanks for this recipe… looks great!