Sweet & sour pork meatballs with pineapple, carrot, onion, celery, green peppers and (zucchini, & tomatoes from the garden) cooked in Lee Kum Kee's sweet & sour sauce. Chinese believe that one must not eat chicken, eggs or beef when they have chicken pox or shingles so I stuck to eating pork like I was told by my family & friends.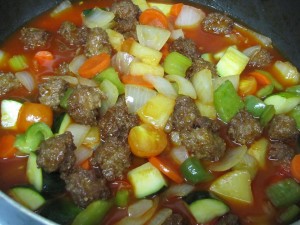 Comments from Tried and True Recipes Group on Facebook
Is the recipe available? Looks to good not to try.
Alexandra Lim

Yes 

Diana Rizk

, eat with rice. There is no recipe … I already mentioned everything used above the photo. Cut up the vegies and sauteed in a bit of oil then pour the sauce over and cook for several minutes. Sauce comes in a bottle, should be available in your Asian aisle at the grocery store. The brand is Lee Kum Kee. Just make meatballs from ground pork with some salt and pepper to season. Form into balls and deep fry. Very simple

Alexandra Lim

Oh I added a couple of tablespoon of cornstarch to the pork about 1 lb.