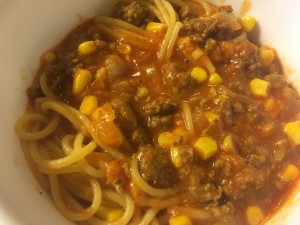 Serena's Taco Spaghetti
INGREDIENTS
2lb ground chuck
1 onion diced
2 garlic cloves, minced
Dab oil
Taco seasoning
Salt
Pepper
1 can tomato sauce (Plus half of that can filled with water)
1 can tomato paste (plus that can filled with water twice)
1 can creamed corn
1 can sweet corn, drained
Parsley flakes
Parmesan Cheese
1/2 jar chunky salsa
Pete's hot sauce..4 drops
Spaghetti Noodles
Little shredded cheddar cheese
DIRECTIONS
Brown 2lb ground chuck with 1 onion diced and 2 garlic cloves, minced. in a dab oil
add salt, pepper and Taco seasoning once meat starts to brown (I don't measure this)
once browned if you have a lot of oil you can drain, if not much don't bother.. add in 1 can tomato sauce (Plus half of that can filled with water)
then add in 1 can tomato paste (plus that can filled with water twice)
add 1 can creamed corn, 1 can sweet corn, drained
Stir and add in Parsley flakes and a good amount of Parmesan Cheese as well as 1/2 jar chunky salsa
let it bubble.. stir and taste.. mine needed heat. . I added a little Pete's hot sauce.. about 4 shakes
boiled your Spaghetti Noodles in salted water with tbsp oil till aldente. Take out and add to your Pasta . On this I add a little more parmesan cheese as well as a little shredded cheddar cheese (about 1/2 cup to a cup) if it is too thick for your liking you may add a ladle of pasta water to your sauce.. stir and serve. My son liked sour cream in his. I liked mine just the way  it was. Enjoy.