My family always asks me to make this.. It's delicious..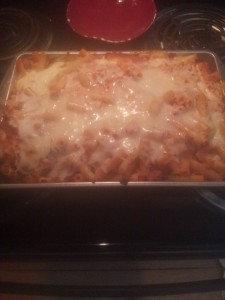 PAULA'S EASY SEMI HOMEMADE Baked Ziti
1.5 Pounds bulk hot sausage
1 box ziti
2 eggs
4 oz parmesan cheese
8 oz mozzarella cheese
1 jars spaghetti sauce
16 oz ricotta cheese
Miz the Ricotta,2 eggs,4 oz mozzarella,4 oz parmesan,sauce..Mix all together.. Fry sausage then add to mixture.. Cook your noodles then add them to the mixture also.. Transfer in to baking pan.. Top it with the rest of the mozzarella.. Baked until top cheese is melted.
I personally always add more cheese and you can add more sauce if you like,depending how you like it… Super easy to make and it beats any baked ziti I have eaten in a restaurant