RECIPE AND PHOTOS Submitted by: Laurie Lynard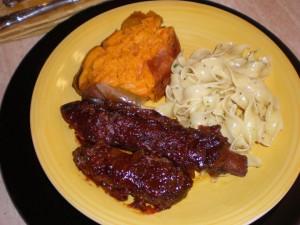 Slow Cooker Ribs
Ingredients:
2-3 lbs of ribs, cut into 1-2 bone sections
1 pkg. of McCormicks Slow Cookers BBQ mix
1 tbsp. of black pepper
1 large onion, sliced
1 tbsp. of paprika
2 tbsp. of olive oil
Directions:
Heat Ninja on stovetop high. If using a crockpot, heat a pan on high.
Mix the onions, paprika and black pepper together
Once pot is hot, pour in olive oil and sautéed onions for 5 minutes
Season ribs with black pepper.
Turn Ninja off stovetop and set it to 8 hrs slow cooker setting, if using a crockpot, set it on low setting for 8 hrs. (Crockpot users: Put the ribs and onions in the crockpot)
Follow the instructions on the back of the McCormicks Slow Cookers BBQ Mix
Mix the ingredients together and pour on top of the ribs.
THAT'S IT!!! SET IT ON LOW SETTING FOR 8 HRS! ENJOY